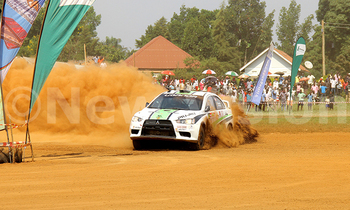 The stewards meeting that sat today Wednesday at Lugogo upheld the results which had the crew of Jas Mangat and Joseph Kamya as winners of Sunday's Kabalega rally.
The results of the rally had been withheld following the crew of Godfrey Lubega and Justin Mungoma petition to the organisers citing irregularities in the implementation of the rules.
"Yes the stewards upheld the results after finding out that the organisers didn't meet the required standards but the drivers were right to protest because there was no safety." an official stated.
"They have also warned drivers to follow right procedures other than protesting," he added.
Meanwhile, rally drivers have decided to boycott all the United Motorsport Club (UMOSPOC) organised events for the next four years in a bid to create sanity in the organisation of motorsport events in the country.
The drivers' New Vision talked to said that they have been complaining of poor organisation, cheating and incompetence of the officials but all in vain and it is only a boycott that would wake them up.
"We as drivers who signed a petition concerning the security of drivers and their cars in Masindi have resolved to boycott any UMPOSPOC organised event for the next four years," Byona stated.
"We shall also on all days that UMOSPOC organise an event have our own drivers' day out and carry out charity activities," Byona added.
"We are formally writing to FMU and sports minister to notify them on our stand," Byona said.