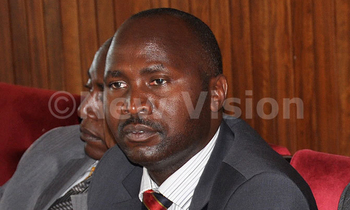 Members of Parliament have said the oil and gas sector is still engrossed in a culture of secrecy which presents a governance challenge to the sector. "Whereas a number of efforts have been undertaken by the government such as the development of a strong policy, legal and institutional framework, it is still difficult even for Parliament to access information which is pertinent to fostering the much required transparency and accountability in management of the sector," Theodore Ssekikubo, the chairperson of the Parliamentary Forum of Oil and Gas said.
This was during an orientation meeting for members of the forum held in conjunction with International Alert, an NGO promoting good governance in the oil and gas sector. The function was held at the Parliamentary Conference Hall recently.
Ssekikubo added that many oil rich countries have lost their resources to corruption perpetuated through secretive dealings, political patronage at the expense of the common person.
He said extra care was needed to prevent the country falling into the oil curse associated with conflict, income inequality and poverty despite having oil. "Lack of accountability and transparency leads to public discontent. It is our duty to bridge this gap," he noted.
Peter Magelah, a lawyer at Chapter Four, an NGO promoting human rights said there were many gaps in Uganda's oil and gas laws and they need to be addressed by the 10th Parliament.
He said thereis lack of clarity on when Uganda can receive oil in kind from the oil companies and if it is received by the National Oil Company how it can be handled.
He cited another issue being the lack of clarity on sharing of royalties by local governments and whether kingdoms located in the oil regions that will receive royalties can be audited.
Dozith Abeinomugisha, the assistant commissioner in charge of refining at the petroleum directorate, said government was committed to providing information on the oil and gas sector.
Abeinomugisha said the Production Sharing Agreements had been presented to Parliament and it was up to Parliament to study them.
He added that the ministry of energy had a website where all policies and laws relating to the sector were available. He said the National Oil and Gas Policy provides for the setting up of a communication section and recruitment of communication professionals to provide information.
He said information on the oil and gas sector had been translated into nine languages and information dissemination was on going through community meetings, radio talk shows and field visits.