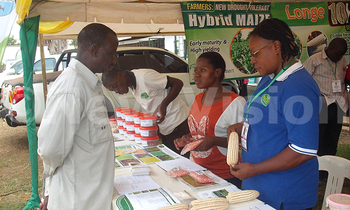 The National Agricultural Research Organisation (NARO) has developed new hybrid maize that is resistant to harsh weather conditions such as drought and various diseases.
It was developed through a regional public private partnership co-ordinated by the African Agriculture Technology Foundation and launched by President Yoweri Museveni during the recent Source of The Nile Agricultural and Trade show in Jinja.
"The maize is bred with important traits that meet the needs of Uganda's farmers and can give high yields during dry spells. They are also resistant to leaf diseases such as maize streak virus, turcicum leaf spot and grey leaf spot, which are rampant," Annet Nakayima, a research technician at Namulonge Research Institute said.
According to Dr Ambrose Agona, the Director General of NARO, the new hybrid maize has the ability to give an average yield of three to four tonnes per hectare in moderate drought and up to eight tonnes in good seasons, thus helping farmers fight hunger through increased production.
It grows well in mid altitude areas and one seed should be planted per hole for best results. The spacing is 75 cm from one row to another and 30cm from one hole to another, Nakayima explained.
The new variety takes an average of 120 days (three to four months) to mature.
This hybrid variety has a white hard grain and a good husk cover that protects the cob from damage by birds and grain from rotting by preventing water from entering into the cobs.
The research was undertaken through the Water Efficient Maize for Africa project and currently, a number of WEMA hybrids such as WE2114 and WE2115 are on the market.
WEMA is a private/public partnership led by the Kenya-based African Agriculture Technology Foundation and involves five National Agricultural Research Systems in Uganda, Kenya, Tanzania, Mozambique and South Africa.
The objective of the project is to improve food security and rural livelihood among smallholder maize farmers in Sub-Saharan Africa by developing new drought tolerant and pest protected maize hybrids.