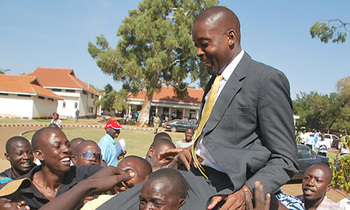 PIC:Ousted Jinja Municipality East MP Nathan Nabeta
The Inspector General of Government (IGG) has criticized the ousted Jinja Municipality East MP Nathan Nabeta for holding two positions both as chairman of the Board of Uganda Broadcasting Corporation and Member of Parliament

In a report to the Minister of Information, Communication and Technology (ICT) Frank Tumwebaze, deputy IGG George Bamugemereire, said Nabeta's action is equivalent to conflict of interest and therefore should be asked to relinquish one.

According to Bamugemereire, a Member of Parliament cannot also be an effective member of a statutory Board such as that of UBC because it violates the constitutional doctrine of separation of powers upon which the system of government is based.

"In essence therefore, Nabeta presides over a Board which reports to Parliament, where he is a member. As an MP if he was party to any Board deliberations in terms of approval of the budget and/or submitting of audited accounts he would automatically become subject to prosecution for the offence of conflict of interest," he noted.

Bamugemereire proposed that if Nabeta declines to resign, the minister should use his powers under Section 7(4)(c) of the Anti-Corruption Act 2006 to remove Nabeta from the UBC board because he would be legally incompetence to chair the UBC board.

According to Bamugemereire, the incompetence would arises on account of the fact that due to the conflict of interest inherent in holding the two positions, Nabeta would no longer be legally competent to function as chairman of the UBC board especially with relation to the critical matters of the budget and accounts of UBC.

"Nabeta should take the logical step of relinquishing either his seat as a Member of Parliament or his position on the UBC Board," Bamugemereire said.

In June 2016, the IGG received a complaint from an undisclosed individual that despite having been elected and sworn in as a Member of Parliament in the 10th Parliament, Nabeta continued to hold the position of Chairman of the Board of Uganda Broadcasting Corporation.

However, as the IGG's investigations were going on, Nabeta was thrown out of Parliament by Jinja High Court after Forum for Democratic Change's Paul Mwiru won the election petition filed against him.

Mwiru accused Nabeta of inflating the votes by showing that more people had voted than were present on the declaration forms. Nabeta has since appealed against the ruling.

He also resigned his position as chairman UBC last week. Speaking to New Vision Nabeta said he was cleared by the Attorney General to stand as a MP while still holding the position of chairman UBC board.

"I thought the advice of the Attorney General and he said it was ok for me to stand. I however later resigned because I was put on the ICT committee that oversees the activities of UBC," he said.

After Nabeta's resignation, Tumwebaze appointed Simon Kaheru, a media consultant to act as chairman board.

IGG Spokesperson Ali Munira however said at the time of investigations (June) there were no signs that Nabeta had resigned as chairman UBC board.

"The complaint came in before he resigned. During the investigation, we did not see the resignation letter and even when we presented our report to the Minister, we did not get any information to that effect," Munira said.