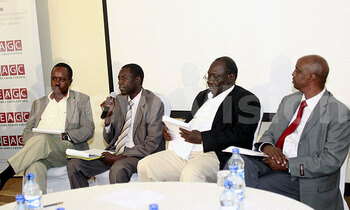 PIC: Dr. Benard Otim the chairman of EAGC, Ambassador Phillip Idro of Uganda (second right) and Eugene Rwibasira (right) of Rwanda addressing participants on grain trade. (Credit: Francis Emorut)

NAIROBI - The East African Community (EAC) governments have been urged to support grain trade, with the argument that such trade is the only sure way for the people to transact and exchange value and thereby raise the standards of living of the citizens.

The directors of Eastern Africa Grain Council (EAGC) pointed out the challenges faced by their members in conducting cross-border trade, particularly within the region.

It is understood some regional governments have been taking short-term measures to block trade and thereby undoing all the efforts made towards long-term solutions.

The directors cited cases where export permits were cancelled without notice.

"Some of the effects include trucks being impounded and stopped at the border points, resulting into very heavy financial losses in transport waiting charges, loss of time, inability to meet contractual obligations and high expenses," they said in a press statement.

They acknowledged that each of the regional countries had different agro-ecological zones and that at any one time within the year, crops were being harvested in one country and when one country was harvesting, another was not.
At a grains store in Uganda. (File photo)

The EAGC directors said there is reason and basis for continuous trade in grains throughout the year.

And their argument is that as a region, if free trade is facilitated by the various national governments, then the entire region will always have sufficient food to feed the East Africans.

Regional governments were urged to refrain from any actions that would impede cross-border trade.

The meeting, which took place in the Kenyan capital Nairobi, recommended that EAC governments should embrace the spirit of integration and free movement of goods in the region.

Other recommendations were on promoting and demonstrating commitment to structured trading systems, as well as instituting a consultative process with the private sector on policy decision.

The board of directors include Dr. Bernard Otim (Uganda), the chairman, Gabriel Kitenga (Kenya),vice chairman, Isaac Chege (Kenya) the treasurer, Ambassador Phillip Idro (Uganda), Eugene Rwibasira( Rwanda), Abel Lymo, (Tanzania), Evarist Silayo (Tanzania), Julius Wambura(Tanzania),Munir Thabit(Kenya), Farnie Kruger(Kenya) and Gerald Masila, the executive director.