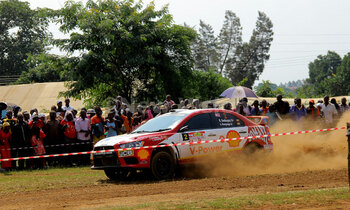 1. Ronald Ssebuguzi 05:02
2. Jas Mangat 05:08
3. Arthur Blick 05:15
4. Yusuf Bukenya 05:18
5. Desh Kananura 05:18
6. Ambrose Byona 05:21
7. Duncan Mubiru 05:23
8. Godfrey Lubega 05:24
9. Umaru Dauda 05:24
10. Dr.Ahmed Ashraf 05:26

Ronald Ssebuguzi in a Mitsubishi Evo10 lived to his promise in the Kabalega rally winning the super special stage in a tightly contested event.

Ssebuguzi navigated by Leon Ssenyange posted a time of five minutes two seconds (05:02) beating his rival Jas Mangat (05:08) by six seconds.
The Shell V-Power and Centenary Bank sponsored driver with 215 points on the NRC standings wants a win in this rally to close-up on Mangat who is leading with (300pts).

"Our target is to win the rally but we are waiting for day two," Ssebuguzi stated.
NRC defending champion Arthur Blick Jr. finished third, Yusuf Bukenya fourth while Desh Kananura, Ambrose Byona and Duncan Mubiru were fifth, sixth and seventh respectively.

The OiLibya sponsored Dr.Ahmed Ashraf finished tenth while the only two female competitors Suzan Muwonge and Leila Blick were 17th and 28th respectively.

The first rally event in Hoima after 30years attracted mammoth crowd including the Bunyoro kingdom Prime minister who endured the cloud of dust created by the rally drivers in action.
The drivers today will battle it out in the remaining eight Sections, two in Hoima and six in Masindi.