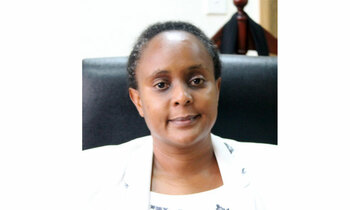 By Vision Reporter
The Uganda National Bureau of Standards (UNBS) has had a love-hate relationship with entrepreneurs, a number of them manufacturers, over standards. A number of small factories have been closed or forced to adopt standards or risk closure.
While many know of existing standards and even go out of their way to falsify information to show they are compliant, a number of the proprietors are ignorant of the standards they are required to observe. UNBS says it has had certification regulations since 1995 under which it operates a Product certification scheme.
This scheme, it says, is intended to assists the manufacturers produce goods that meet relevant standards. If a product consistently meets standards, it is then certified and the company is permitted to affix the UNBS quality mark and Standards mark on the product and packing.
The major objective of this, is to promote the quality of goods, protect the health and safety of consumers thereby enhancing the competitiveness and export capabilities of local industry and products.
According to the UNBS though, the Quality Mark (Q-Mark) is a voluntary (optional) mark of quality granted to manufacturers that have consistently met the relevant product standards, though the onus to produce standard goods is not.
However, according to UNBS, the Standards mark is mandatory for manufacturers. Deputy executive director - Technical Patricia Ejalu guides manufactures on how to get the marks and why they are important.
The Q-Mark
The manufacturer obtains application forms from UNBS or through the web portal and fills them. The UNBS officers will fix with you a date to visit and audit your factory. UNBS quality auditors will visit the factory, at the company's expense, for auditing based on standards applicable to your product.
The quality audit is conducted in a free atmosphere and confidentiality is observed. During auditing, samples of the products will be taken for testing in UNBS laboratories. The company shall demonstrate that products meets the requirements of the standard at least three time at different intervals.
If UNBS is satisfied that the company has fulfilled the requirements of the standards, and if the products pass the laboratory test, the company will be informed of their success. On paying the permit fees the company will be granted the permit to use the Quality Mark.
The permit is granted per product per brand per year The company uses the Quality Mark to market their product and assure consumers that the products meet standards. The quality mark is printed on the product or the product package. The process is repeated after one year for renewal to ensure that quality requirements are continuously fulfilled. During the year surveillance audits are carried out without notice to ensure continuous compliance.
Standards Mark (S-Mark)
This mark is mandatory, granted to a manufacturer(s) who has shown compliance to the relevant compulsory Uganda standards and can apply the mark on the registered products.
Upon receipt of a duly completed form, UNBS appoints a relevant product expert to carry out assessment of the production system, collects samples for analysis and agrees on the scheme of supervision and control with the manufacturer for continuous monitoring of the production process. UNBS reviews and evaluate the experts assessment report and laboratory test report to determine compliance.
Benefits
Ejalu says product certification comes with a number of advantages. It is one way for manufacturers to be oercived better by the local and international markets. It would also be favoured for bulky purchase from Government, non-government organizations and International bodies since these institutions are relying more on UNBS certified products for their purchases.
The Certification Scheme includes technical audit of product quality and production process by UNBS officers. Having a Q-mark is one way of winning consumer confidence and good will. Through mutual recognition schemes, countries recognize each other's products that are certified, thus easing entry into regional and foreign markets.
The quality mark helps consumers and purchasers to identify quality products on the market. It is a guarntee of good quality and conformity to approval standards.
Oil: Debt worry, delay for offshoot industries
Reuters
Uganda could face "debt distress" in as little as two years if a start to oil production is delayed further, after ramping up its foreign borrowing in recent years, a top central bank official told Reuters yesterday. Adam Mugume, executive director for research at Bank of Uganda, told Reuters the debt load could become problematic if Uganda does not begin exporting crude soon.
He pointed to the slump in commodity prices and the weak performance of Uganda's hard-currency-earning exports. "We have pushed oil very far, every now and then we're not ready," Mugume, a member of the central bank's monetary policy committee, said in an interview. "We should start now getting worried about debt distress."
Uganda found big oil reserves a decade ago but a date for large-scale pumping has been pushed back several times. The government now says it will start after 2020, when a pipeline through East African neighbour Tanzania is due to be completed.
Asked when Uganda was likely to start struggling with debt repayments, Mugume said that without oil revenues, "we'll be having (a) serious challenge" in two to three years. The country has ramped up external borrowing, mostly from China, to fund infrastructure projects including highways, a railway, hydro power dams and an airport.
Total external debt stood at $10.3 billion in May, including disbursed funds and credit yet to be released but on which agreements have been concluded, the central bank said. Finance Minister Matia Kasaija told Reuters earlier this month there were no concerns over debt levels.
Mugume said the fact that most of the projects for which Uganda is borrowing will take years before they start earning any money, while debt repayments start almost as soon as the loan is secured, posed additional risks. Crude reserves estimated by government geologists at 3.5 billion barrels were discovered in the Albertine rift basin along Uganda's border with the Democratic Republic of Congo (DRC) in 2006 but production has repeatedly been pushed back.
Spats over taxation, disagreements over field development strategies and delays in erecting infrastructure like the export pipeline agreed with Tanzania in April have all been blamed. The jointly developed pipeline will carry Ugandan crude to Tanzania's Indian Ocean port of Tanga for export. Britain's Tullow Oil and France's Total, two of the three firms that own fields in the country, have been awaiting production licenses for years, although China's CNOOC has been granted one.
Uganda hopes to develop other offshoot industries from petroleum which would boost job creation and economic growth. This dream is pushed back everytime timelines are pushed back. Products that can be developed after oil has been refined include solvents, motor oil, bearing grease and others.