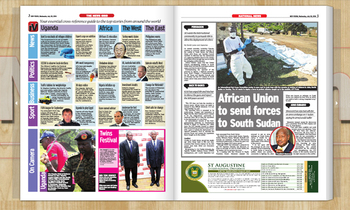 African leaders have approved the deployment of troops in South Sudan. But how will they deploy troops there when President Salva Kiir has rejected such a move? Find out what the African leaders have planned to do, the numbers involved and the countries expected to contribute soldiers. Don't miss the New Vision.
The Police have arrested 11 suspects allegedly linked to a plot to attack a Police station in Acholi sub-region. Find out the items the Police have recovered and other evidence they have to link these people to the attacks.
In a shocking story of corruption, ignorance and being gullible, find out how Sarah Wekomba, the Bulambuli Woman MP, was conned of sh70m to allegedly bribe a judge who was handling her election petition. Get the full story of the conman, who claimed he was working with the Electoral Commission as an Inspector of Elections.
We bring you a story on why several pharmacies are suing the National Drug Authority over licenses. What is it that the drug authority is doing against the law?
In an inspiring story, armless and blind pupils have won this year's schools essay writing competition. Do not miss the emotional story and great photos.
Change your attitude, Kampala Minister Beti Kamya tells Lord Mayor Erias Lukwago. Find out what behaviour Kamya has boldly told the tough-talking Lukwago to change to allow the city push ahead with its developments.
Following the rush for land in the oil areas, many wetlands are under threat from speculators and investors. Get the full grim situation in the New Vision.
The Parliamentary committee on defence and internal affairs has decided to summon Police chief Kale Kayihura over the Force's brutality against civilians. But do you know that this committee is headed by former Police spokesperson, Judith Nabakooba? It will be an interesting encounter! But first find out what Nabakooba has said about the Police actions.
Have you ever imagined the pleasure, the shock and the surprises of returning to a place you left 15 years ago? Get that experience from the former Director of Procurement in the UPDF, Capt. Richard Kabali Masembe, who fled the country in 2001 and has just returned home.
DP attacks FDC for opting out of the Inter Party Organisation for Dialogue (IPOD. DP has termed FDC as cowardly and arrogant. Find out what DP has suggested should be done instead of leaving IPOD.
The new MPs will have to continue using their old cars or use public means to go to Parliament and to their constituencies. Find out what happened to the money to buy cars for the new MPs.
Mulago Hospital has admitted more people injured in the Juba clashes in South Sudan. We have names of some of the people who have been admitted. They could be people you know. Find out more.
In Mwalimu
Do not miss an interesting and educative OPINION on how Uganda can regain its education glory:
For decades Uganda was the favoured destination for many East Africans wishing to acquire a good education. In its heyday, Uganda offered superior all-round education. Today, Uganda ranks fourth on the continent in terms of graduates who are well-prepared for the job market. It is possible for Uganda to regain her lost glory? Prof. Emeka Akaezuwa explores how this can be achieved.
We unveil the new secondary education curriculum, its new learning areas and their benefits.
The new lower secondary education curriculum will have eight learning areas. We have an explanation from the National Curriculum Development Centre on what each of the eight learning areas entails. In the first of eight stories on the learning areas, we bring you science studies.
In school profiles, read about Seeta High, which grooms leaders without titles.
Dr John Muyingo, the state minister for higher education, groomed most of his teachers into leaders and many of them are now running several other schools countrywide. One the graduates of Muyingo's system is also grooming both teachers and students into leaders. Get the inspiring story in Mwalimu.