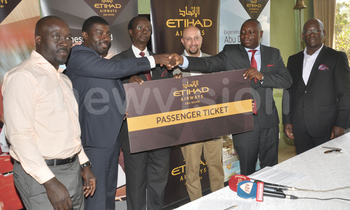 Etihad Airways has joined the growing list of sponsors of the Tusker Malt Uganda Open with a sh36m sponsorship towards the event due August 10-13 at the Uganda Golf Club.

The sponsorship includes an all-expense paid trip to Abu Dhabi for both the winner of the Uganda Open and the Professionals Open that will be played on August 31 to September 3.

The winners will not only fly business class but will also enjoy three-nights complimentary accommodation at one of the top hotels, as well as playing golf at one of the city's championship standard golf courses in Abu Dhabi that include; the Abu Dhabi City Golf Club, Saadiyat Beach Golf Club, Yas Links and the Abu Dhabi Golf Club.

Etihad Airways General Manager, Uganda ,Toyin Alaran unveiled the package to the Uganda Golf Union president Johnson Omolo who was in the company of UGU secretary Bernard Mbayo, UGC Captain Anthony Kerali and his vice Paul Baite and Uganda Open Liason officer Faiz Alam.

Alaran said the winners will choose from one of the courses around the city to play at.

"Golf is a growing market in the travel industry and we are extremely proud to support the Uganda Open which is now one of the biggest tournaments on the continent,"Alaran said.

"This is our first high profile sports sponsorship in Uganda since we launched our flights in the country in 2015 and underscores our commitment to this important market,"

A delighted UGU president Johnson Omolo said the event has now received over sh250m in cash sponsorship saying: "This is a clear testimony that the open continues to grow bigger and will get better as we approach the event. The entry of Etihad is a clear sign that the game is growing in Uganda and a clear sign of belief in the UGU and the golfing fraternity in general,"

"We are grateful and we hope golfers will enjoy the Etihad experience in this championship and this is a clear sign that Uganda remains a good destination for business around East Africa," Omolo stated.

UGC Captain Anthony Kerali said the event will be different in many ways one of which will be a clean and refurbished course.