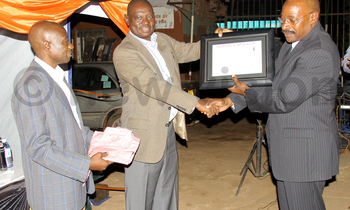 40 rally drivers have confirmed participation in the Kabalega Rally to cover the districts of Masindi and Hoima on Saturday and Sunday.
According to the final entry list all the top crews including Dr. Ashraf Ahmed, Ambrose Byona, Arthur Blick Jr, Adam Rauf, Ronald Ssebuguzi, Musa Kabega, Omar Mayanja and Desh Kananura put pen to paper.
The two day event is the fourth round of the National Rally Championship.
Meanwhile Police will avail its chopper to monitor safety at the Pearl of Africa Rally due in September.
AIGP Andrew Sorowen disclosed this over the weekend at a ceremony in Ndeeba organised by Uganda Motorsport Safety Marshals Association (UMSMA) to recognise the services of FMU vice president Hajji Hamidu Gombe.
"We as Police are committed to support sports and safety is a priority," Sorowen stated.
"Ugandan motorsport has the biggest following in Africa and I will ask the Inspector General of Police (Kale Kayihura) to give us the Police chopper for Pearl of Africa rally," Sorowen added.
"The chopper will help to monitor safety of the competitors and fans," he stressed before cautioning safety marshals to avoid use of drugs.
He urged them to train more marshals because the number of motorsport fans is increasing every day.