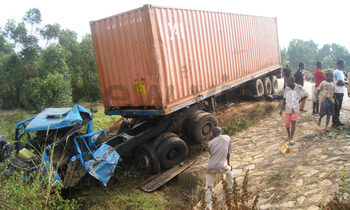 Three people including a Police officer died on the spot and scores were injured in an accident which occurred at Mukoko, Lukaya town council in Kalungu district on Sunday morning.
According to Masaka regional traffic officer, Grace Nampijja, the accident occurred at around 5am when a Jaguar bus number UAT 728F heading to Bushenyi collided with a trailer number UAV 384G which was also heading to Masaka.
Among the dead was inspector of police Deogratious Kweyamba, the officer in charge of traffic at Lukaya Police station who was knocked by the trailer which found him in the middle of the road on duty trying to control traffic.
According to Herbert Miyonga, a bodaboda rider at Mukoko stage who saw the accident happen, the Kweyamba was trying to open the road after three other vehicles had collided in the middle of the highway.
He was knocked by the speeding trailer which went on to knock the Jaguar bus killing one passenger in the bus and the co-driver in the trailer.
Police is yet to identify the other people who perished in this accident.
He added that the accident was due to mist which prevented the drivers from seeing where they were going.
"There was mist in the morning hours and I suspect it was the cause for the accident because drivers were not able to see where they were heading and in the end they collided" he said.
59 people were seriously injured and rushed to Masaka Hospital for treatment.
Fire Brigade from Masaka and Buwama Police stations were called in to cut the wreckage and remove people who were still stuck inside the vehicles.
Masaka-Kampala Highway has witnessed a spate of accidents in the last three weeks which have left over 30 people dead and scores injured.
According to Police, most of the accidents on the highway are a result of reckless driving and disregard for road signs by the drivers.