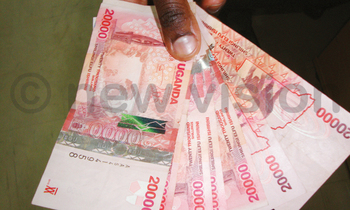 Officials from the office of the Inspector General of Government (IGG) in Arua have arrested the Koboko district state prosecutor.
Samuel Awica was picked from his office on Friday and whisked to Arua Central Police Station where he is currently being detained as investigations continue into the matter.
According to Ali Munira, the IGG principal public relations officer, Awica was arrested for allegedly soliciting and receiving a bribe of sh900,000 to withdraw a case which was forwarded to him by Police.
Munira said at the time of his arrest, Acwica's office was searched and the money was later recovered in his diary book.
Reports from Koboko indicate that Awica has been pestering a complainant only identified as Muzamil for the said money before dropping an assault case he had earlier filed at Koboko Central Police Station.
Muzamil, a resident of Monodu in Kuluba Sub County, Koboko district had accused a group of locals from Lobule Sub Count of assaulting him and some of his relatives during a funeral rites ceremony in Monodu on June 21, 2016.