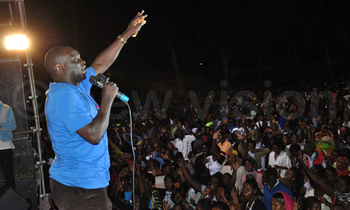 A Catholic Church Charismatic preacher, John Baptist Mukajanga has passed away.
Mukajanga, who died in the wee hours of Saturday morning, was a charismatic Catholic popular for leading prayers at Mt. Sion Bukalango Prayer Centre in Wakiso district.
The priest in-charge of Bukalango, Monsignor Expedito Magembe could not reached for comment, but his assistant that spoke to New Vision confirmed his death.
"The priest cannot speak to you know but it is true the brother is dead," said the assistant.
The Kira Road Police Commander, Michael Kasigire also confirmed Mukajanga's death.
"The brother owned two homes one in Bukoto and the other in Bwebajja, where he passed on," Kasigire said.
Authorities were carrying out a post-mortem on Mukajanga's body by press time.
Who was Mukajjanga?
John Bosco Kyeyune known as Mukajjanga was born in Kasaala-Luweero in Kasana-Luweero diocese. His father is Mzee Paul Ssempungu.
He started ministry with Msgr. Expedito Magembe when still in Kiziba Parish in Masulita in 90s.
What people say
Many took to Mt. Sion Bukalango's Facebook page to express their grief. Here are some of them
Susan Namatovu: It is over for our brother. He really worked for his soul wat about you? This gives us a lesson to learn. We must get back to our enternal father but how. Mukajanga healed counseled preached praised and worshiped the lord all in the name of God but he is now gone. People of God let's work for our souls such that the grave is not our home but heaven.
Mackie Peace: I surely can't believe it. But then death exists. Brothers and sisters let's not mourn for his death because he did all his work on earth. He has always been there for whoever needed him now it is our turn. He doesn't desire our mourning but rather our prayers. May his soul rest in eternal peace
Barbie Banks Kabanda: Ohhhhh Jesus!!!!¡ is dissing de end of your minister??? Can't believe my eyes. Uhmmmm it's had but sad news. May his soul RIP kitalo nyooo but may God strengthen de entire FAM en us at large....
Maxy Tee: I can't believe someone i was with on Thursday at Jemba Plaza, anyway always God take good people to help him with little work in heaven. RIP
Ronald Nionzima Andrew: Lord may u forgive him where he went wrong and welcome his Saul into Heaven. May His Saul RIP