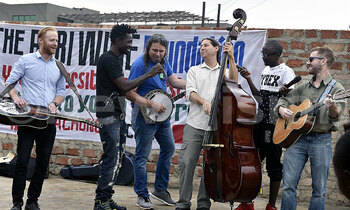 KAMPALA - You saw them in a video singing Eddy Kenzo's award winning song Sitya Loss, and youth in Kamwokya saw them perform live today!

After their performance at the US Independence Day celebrations at its Embassy in Kampala on Tuesday, the Henhouse Prowlers headed for the ghetto Wednesday morning.

They particularly visited the Bobi Wine Foundation, where Ugandan artist, Bobi Wine – also popularly known as Ghetto President – trains disadvantaged youth in several activities such as music, art, crafts and boxing.

The four-man band was welcomed by the Afri-dance Ensemble, a group of youth that have specialized in traditional dance.
It was not like the usual welcome given to people! These men are enthusiastic about learning from different cultures. They immediately asked for costumes and joined the dance only three minutes after watching the moves.

Soon, crowds from the nearby areas had already gathered around the enclosure, with some peeping from the entrance.

Since it was a time to mingle and learn from each other, the band and the ghetto youth did their performances one after the other.

When their time came, Ben Wright with a banjo, Aaron Dorfman a guitar, Todd Livingston with a dobro and Jon Goldfine on the bass sang Sitya Loss before expectant crowds.
Here, Bobi Wine looks on as his American visitors admire products made from car tyres by Allen Njola Nabukenya (2nd-left). (Credit: Roderick Ahimbazwe)

They also performed P-Square's Chop my Money and one of their own original composition hits Aint it a Shame.

That however did not receive so much attention as Sitya Loss and Chop my Money since it was not known by most of the people there.

"It is for this reason that we decided to learn some of the African songs. When we first came to Uganda most of the people did not know our music, so they would get bored," said Ben Wright.

The band applauded Bobi Wine for his initiative to train the ghetto youth and encourage them to keep up the spirit.

"It is so amazing seeing what these young people are doing for themselves."
Tadeous Mayega aka Bilangilangi, a painter and musician of Firebase Crew paints tyres during the visit. (Credit: Roderick Ahimbazwe)
Ryan Ssejjemba of Firebase Crew displays sandals he makes. (Credit: Roderick Ahimbazwe)
The guests were treated to some entertainment. (Credit: Roderick Ahimbazwe)
Allen Njola Nabukenya displays a bag and shoes she made from car tyres. (Credit: Roderick Ahimbazwe)
Bobi Wine's wife, Barbie, sits on painted used tyres as she displays a bag made from tyres. (Credit: Roderick Ahimbazwe)