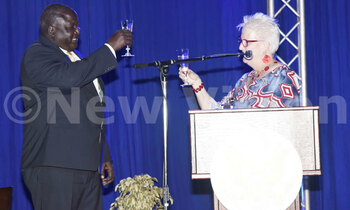 By David Lumu
The celebrations were supposed to be held on July 4, the day the United States adopted the declaration of independence but the US envoy to Uganda, Deborah Malac, was forced to extend the ecstasy to July 12 to accommodate Chicago's Henhouse Prowlers band.
"Many of you have asked why we moved the date of our Independence Day celebrations this year. Well, we had a really great reason—we pushed the date so that our entrainment for the evening, the Henhouse Prowlers, could join us. The prowlers are making a return appearance to Uganda after their smash performances last year. And, although I was not in Uganda then, I know the Henhouse Prowlers well. We are delighted to have them back in Uganda and I thank them for making the long journey to Kampala to give us a little taste of home!" She said.
Indeed the taste of yesterday's night was choreographed on the band's performance of Eddy Kenzo's sensational hit—Sitya Loss.
But as US marked her 240th birthday, Malac and the chief guest, Henry Okello Oryem, the State minister for foreign affairs, reiterated what they described as "strong" ties between Uganda and America.
"We believe in the future of Uganda, and especially in its youth, and we want to see this country succeed," Malac said, pledging continued support in the fight against corruption, strengthening health and education sectors and creating opportunities to spur prosperity in Uganda.
Oryem on the other hand, hailed US for supporting regional security efforts and the fight against terrorism.
"A lot has been achieved through this partnership," he said, singling our budget support, fight against HIV/AIDs and support to the Uganda People's Defence Forces (UPDF) as key elements that have shaped US-Uganda relations.

RELATED
In pictures: Uganda celebrates U.S. 240th independence anniversary