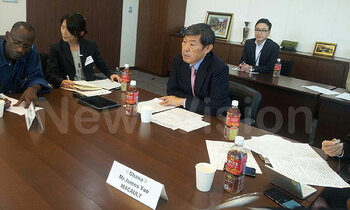 Africa will for the first time hold the Tokyo International Conference of African Development (TICAD) next month in the Kenyan capital Nairobi.

The past summits have been held in Japan since 1993.

While addressing journalists from Africa who are on a tour to learn about Japan in Tokyo, the president of JICA Shinichi Kitaoka said it is a great opportunity for Africa to showcase their potential at the summit.

Since the inception of the TICAD Process, all its five previous summits have been held in Japan, which prompted African leaders to request that the summit be held in Africa since it is meant for Africa, he said.

The leaders also requested that the summit be held after every three years instead of the current five-year period, something that prompted the TICAD organisers to consider doing so.

"I believe the principle of hosting subsequent TICAD Summits on rotational basis between Africa and Japan will greatly serve to reaffirm TICAD's principle of African-owned development initiatives and genuine global partnership upon which the TICAD process was founded," said Kitaoka.

Like the previous summits, TICAD-VI is expected to attract over 6,000 participants from Africa, Japan and various international organizations. Various side events on key thematic areas are expected to be held on the margins of the summit as well.

Eguchi Hideo, JICA's director general of the Africa department, said that holding the summit in Africa clearly demonstrates growing African ownership in the TICAD process and has been attracting much attention from African states and all TICAD partners, including international organizations like the United Nations System and regional organizations, African Regional Economic Communities (RECs) and the New Economic Partnership for Africa's Development Planning and Coordinating Agency (NEPAD Agency), as well as civil society and the private sector.

TICAD-VI will also take place at an opportune moment, as the year 2016 is the first year of the implementation of the global and regional development agendas, namely the 2030 Agenda for Sustainable Development and Agenda 2063 and its First Ten-Year Implementation Plan.

Being fully in line with these development agendas, TICAD-VI plans to discuss some thematic issues that Africa has been facing since the previous summit in Yokohama, Japan in 2013.

Coming at a time when aid fatigue had become apparent, the launch of TICAD was catalytic for refocusing international attention on Africa's development needs.

In the course of the past 20 years, TICAD has evolved into a major global and open and multilateral forum for mobilizing and sustaining international support for Africa's development under the principles of African 'ownership' and international 'partnership'.