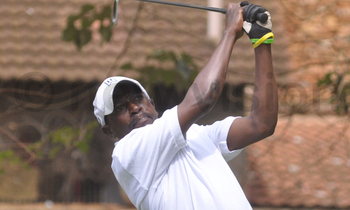 Professional golfer Brian Mwesigwa returned 74 gross to take a two stroke lead as the Mbarara Open teed off at Mbarara Sports Club on Wednesday.
Mwesigwa was one stroke ahead of second placed Vincent Byamukama (75 gross) and second placed Brian Toolit and Peter Sendawula who are tied in third with 76 gross each.
The tightly contested championship has Deo Akope, Opio Onito and last year's winner Fred Wanzala tied in third place with 77 gross, while Phillip Kasozi, Gerald Kabuye and Ian Odokonyero are also tied in fourth on 79 gross.
The professionals are battling for sh15m staked by title sponsor China Railway Seventh Group. The top 12 including ties out of the 30 golfers will make the cut after second round which is on today at the par 70 course.
With more at stake this year, the professionals will battle over 54 holes over four days. They will play the last 18 holes on Friday alongside the top 50 amateurs of the handicap 0-9 from across the country; who also play 18 holes.
Adolf Muhumuza, Herman Mutebi and Ronald Rugumayo are the front runners in this category having finished among the top ten last year.
The tournament will climax on Saturday with the rest of the field competing over 18 holes.
Mbarara Club captain Sam Kacungira said golfers should expect a dry and challenging course.
"The course is very dry, though we have been watering the greens. It is running and must provide a big challenge to those who don't how to roll; it was also stampeded on during the political campaigns," Kacungira warned.
Nathan Muganga, Winnie and Duncan Mpaabwa, Ivan Arinaitwe, William Bizibu and Innocent Muhwezi are regular contenders in the men's category.
The rest are Bernard Maniraguha, Martin Ahimbisibwe, Kevin Ninyesiga, and Robert Asiimwe will lead the charge in Group B, with Rogers Kakuru, Francis Ahimbisibwe, Sam Muguta, Andrew Sinda and club chairman Andrew Mutakooha vying in Group C.
The ladies category will feature Winnie Mpaabwa, Kate Muganga, Bridget Asiimwe and Edrae Kagombe as they try to ensure all the big prizes remain in Mbarara.
The event is co-sponsored by Castle Lite, Pepsi, Johnnie Walker Platinum, Kase Arc and Club Vegas.
Pro's leaderboard after round 1
Brian Mwesigwa 74
Vincent Byamukama 75
Brian Toolit 76
Peter Sendawula 76
Deo Akope 77
Fred Wanzala 77
Ronnie Bukenya 77
Opio Onito 77
Phillip Kasozi 79
Gerald Kabuye 79
Ian Odokonyero 79