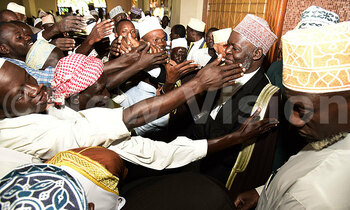 Muslims all over the World are celebrating Idd el-Fitr for completing the holy month of Ramadhan. And here in Uganda, it's no different. Our cameras got busy and now we bring you what we snapped at various prayer locations.

AT OLD KAMPALA MOSQUE (by Kennedy Oryema & Ashraf Kasirye)
AT FORT PORTAL MAIN MOSQUE (by Rogers Sunday)
AT KIBULI MOSQUE & PRINCE KASSIM NAKBINGE'S RESIDENCE (by Maria Wamala & Wilfred Sanya)
BUGISU KING ATTENDS IDD PRAYERS (by Paul Watala)

Bugisu cultural leader Bob Mushikolo (in blue jacket) attended Idd prayers at Raudha Mosque in Mbale town. He appealed to Muslims in Masaba-land to remain united and observe security as it has been in the fasting period.
Anyone feel like some dates? You can buy some here . . .


ARUA: THERE ARE MANY WAYS TO GO FOR PRAYERS (by Kingo BoscoFranco)
HEADING TO WANDEGEYA MOSQUE FOR PRAYERS (by Peter Busomoke)
An opportunity to make a quick 'buck'
PRAYERS AT NAKIVUBO BLUE PRIMARY SCHOOL (by Juliet Lukwago)
ALSO AT NAKIVUBO (by Roderick Ahimbazwe)
KASESE MAIN MOSQUE PLAYGROUND (by Wilson Asiimwe)
The prayers were led by the district kadhi Abdul Hakim Juma.
AT MASAKA MAIN MOSQUE (by Dismus Buregyeya)
AT LUZIRA PRISON (by Petride Mudoola)
IN KAYUNGA (by Abbey Ramadhan)