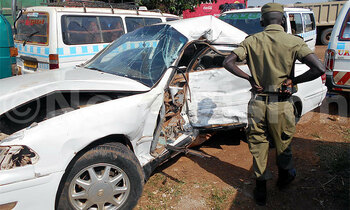 PIC: The driver of the Mark 11, who died on spot, is said to have been at fault. (Credit: Simon Ssekidde)

Two people died on spot and two others were injured in a Tuesday morning accident along the Kampala-Masaka road.

The crash, which happened at Nabyewanga, Nkozi sub-county in Mpigi district, is the third such fatality along this route in the last four days.

In all, 25 people are known to have died in the three incidents.

In the latest accident, the driver of a small car tried to dangerously make a U-turn in the middle of the road and ended up being hit by an oncoming commuter taxi en route to Masaka.

Both driver - Kangave Walusimbi - and co-driver of the Mark II died on spot while two passengers including a two-year-old toddler in the taxi sustained injuries and were rushed to Masaka Hospital for medical attention.
Only two passengers in the commuter taxi got injured. (Credit: Simon Ssekide)

Fabian Betubiza, the regional traffic officer for Katonga region, said driver of the car may have been under the influence of alcohol after they found sachets of a local gin inside their ill-fated vehicle.

It is understood they were returning to Kampala from a vigil of a relative at Muge village in Nkozi sub-county.

Police said the accident was as a result of reckless driving by the Mark II driver.

The two vehicles were towed to Buwama Police Station.

While touring the scenes of the previous two deadly accidents at Kampiringisa and Lungala, the director traffic, Dr. Steven Kassima said the Uganda National Roads Authority (UNRA) needs to widen black spots on the Masaka-Kampala highway.

He said narrow sections in such spots have contributed to several deadly crashes.


ALSO RELATED TO THIS STORY

Stop blaming road accidents on ghosts - FDC

Another accident on Masaka Road claims two

20 perish in Mpigi accident