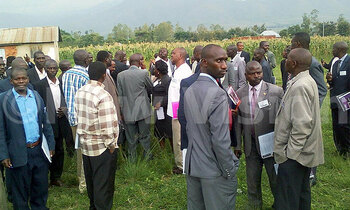 There was confusion at Kasese district headquarters on Monday after LC iii chairpersons from western Uganda stormed out of the Uganda Local Governments Association protesting law salary pay.

The LC iii chairpersons during the ULGA regional annual general meeting, for western Uganda protested and marched out of the meeting claiming that the money they receive from the central government is very little.

Led by Richard Kimunyu the LC 111 Chairpesron for Ryeru Sub County in Rubirizi district, the chairpersons stormed out of the meeting grounding business to a halt. They vowed not to return in the meeting until their demands for payment increment is addressed.

Among the issues they wanted addressed are, delayed transfer of funds to sub-counties, why they have not been given motorcycles to enable them carry out their workers.

"ULGA has failed to advocate for us to have our salaries increased. We are full time workers but we are not even facilitated to reach our parishes," said Kimunyu.

"Recently government gave all the district LC V chairperson's vehicles but for us we don't even bicycles to enable us supervise government work in our Sub Counties we are only paid 300,000 which is even taxed," said Kimunyu.

Shortly after storming out of general meeting, led by Alex Kagaba the chairpersons convened an impromptu meeting in the compound and resolved to lay down their tools until the ministry of local government addresses their concerns.

Benon Karyeija the district chairman of Mitooma and regional chairperson for ULGA for western Uganda said that they are demanding for the provision of motorcycles for Sub County chairpersons.

"We have advocated for the increment of facilitation for the councilors from 100, 000 to 250, 000 but we are still demanding that vehicles for district speakers and motorcycles for Sub County chairpersons should also be procured," said Karyeija.