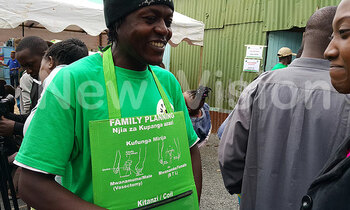 To reach young people with reproductive health information, Ruth Nvumenta Kavuma, an educationist, women health rights advocate and former Woman MP Kalangala swears by social media.

"You cannot beat it. It works," she says emphatically explaining that in a social context where young people face stigma when they seek this information and services, they treasure privacy.

This was her experience with a project, Vijana - Minds Up, implemented in part by Mama Alive Initiative (MAI), an organisation she founded to advocate for resources and for greater engagement for maternal, child and reproductive health.

To avoid stigma, the young people who needed to ask questions were blinded to the reproductive health experts from Ministry of Health experts and Naguru Teenage Centre who responded to them. The experts too were not known to the young people.

They (the experts) would not only respond to the queries, they would also refer the young people to Naguru Teenage Centre or Reproductive Health Uganda, for further support if they needed services.

"If young people communicate in confidentiality about their reproductive health and get the answers, they respond," Kavuma said.

Under the one year project that closed last year, by using both traditional media and community mobilisation methods together with new media platforms like facebook and whatsapp, they reached 60,000 youth (18 to 25 years old) from diverse groups with family planning information.

Dr Babatunde Osotimehin, UNFPA's Executive Director cannot agree more on the new vast opportunities social media presents when it comes to giving young people information.

Speaking at a press briefing in Nairobi today (Monday June 26), he underscored the importance of educating young people on their reproductive health.

"Let's use social media. It has liberalised the space. We can reach far more and get a considerable amount of information out there and prevent people from dying unnecessarily," he said.

When it comes to access to reproductive health services, young people are one of the most vulnerable groups. Social and cultural barriers prevent young people from getting the reproductive information and services they need. Yet Uganda has one of the youngest populations in the world with 78% of the population below the age of 30. There are about 13.1 million young people aged 10-24, the age group that will soon be sexually active and will therefore need contraceptive services to prevent unwanted pregnancy or sexually transmitted infections.

By reaching out to this population group, MAI is just one of several organisations responding to the FP2020 commitment, an outcome of the 2012 London Summit on Family Planning. Over 20 countries pledged funding to address different barriers to reaching the most vulnerable women in the world who need modern contraception with the services. Today 40 countries have signed the commitment.

FP2020 set as a goal to reach 120 million women who needed contraceptives in 69 focus countries, one of which is Uganda, by the year 2020.

2016 is the FP2020 mid-point to target year, any progress made?

Kenneth Mugumya, former National Coordinator of the Uganda Family Planning Consortium, observes that since the 2012 London summit, there has been a lot of progress at the policy front in Uganda. The consortium is an initiative of major private family planning providers, formed to join forces and share skills to address family planning service delivery challenges.
Mugumya highlights the completion of the Costed Implementation Plan, as one of the major steps towards progress in Uganda. According to the plan the country needs $350m to achieve its reproductive health goals.

"In the years following London, there has been increased funding for FP, more NGOs offering services and more donor support," Mugumya says.

Ugandan President, Yoweri Museveni, was one of the global leaders who made a commitment at the London summit. He pledged an additional $5million for five years to reproductive health commodities. Museveni's messages to the citizens since have highlighted FP as help women space their children for better health.

Mugumya finds this a positive development that has contributed to the increased number of FP champions in the country.

"More MPs are talking about Family Planning, district leaders are also getting on board," he says. "The districts of Wakiso, Mubende and Mityana in central Uganda and Gulu in the north, have come up with specific budgets for FP," he reveals.

Mugumya highlights as another achievement -- the signing of the Memorandum of Understanding for the Alternative Distribution Mechanism for FP commodities.

According to an Advance Family Planning report, 65% of Ugandan women using contraceptives get services and commodities from private providers.

The Alternative Distribution Mechanism enables private sector facilities to supply contraceptive commodities, a new development in FP commodities supply. The system was recently put in place to prevent contraceptive supply shortages that would arise when the National Medical Stores supplied only public facilities.

Under the system, a separate supply channel was established to distribute FP commodities at a subsidised cost to private clinics, drug shops and pharmacies. By July last year, 31 organisations were supplying commodities to users.

According to Mugumya, the new system has reduced expiries at the National Medical Stores (NMS) that were common especially with short-term methods. Distribution of commodities has been fast tracked.

In the last two to three years, Mugumya estimates more than $400million has been invested in the country to address reproductive health but unmet need for contraceptives has only gone down from 34% to 31.8%.

"Do we need trillions to reduce to 20 or 10%? Where is the gap? Are we having cost effective services. Is it value for money?" he asks rhetorically.

When Dr Fred Makumbi, Principle Investigator PMA2020, a performance monitoring and accountability project set up to monitor progress of the FP2020 commitments, gives an insight from the first three six-month surveys, it is not surprising that sector players like Mugumya are scratching their heads.

New data collection methods shining a spotlight on the sector

By end of 2015, Contraceptive Prevalence Rate (CPR) for modern methods was at 31% from 26% in 2011 Uganda Demographic Health Survey report. At a glance, one might be quick to celebrate but Makumbi points out that it is too early to count the chicks. An analysis of trends from 2001 shows the CPR has made an average increment of 5% every five years.

"The 5% is therefore not surprising. It is the expected growth," he says. With the investment and all the efforts, results would have been expected to be better.

PMA2020 is using an innovative way of collecting regular data. Using smart phones, resident remunerators in the 110 enumeration areas in 76 districts across ten regions, collect and send the information into a cloud. From there statistical teams at Makerere University and John Hopkins University in the US, independently analyse it in real time. The surveys are done every six months for the first two years and will, in the run up to 2020, be done annually. The surveys use Uganda National Bureau of Statistics tools.

To show how valid PMA2020 data is, Makumbi says their surveys have found a Total Fertility Rate(TFR) of 5.9children. The recent population census found 5.8 within the same margin. TFR is the average number of children who would be born per woman if they were to live to the end of their childbearing years conforming to the age-specific fertility rates of a given year.

Analysis from the first two surveys done six months apart, show commodity stock-out is still a common problem. Also most women have access to the lowest level of healthcare at the village level, the Health Centre IIs.

"The FP methods at this level (HCII) are not efficacious. It is a policy issue, we need to address that," Makumbi says.
Nelson Keyonzo (right), the Project Director of Tupange, a family planning FP service provider in Kenya, with Dr Rose Misati, sub-county medical officer for health for Kangemi area. (Credit: Catherine Mwesigwa Kizza)

Data also show that the median age at first sex for girls in Uganda is 16 years. However they begin using contraceptives at the age of 21 at which age an average Ugandan girl has already had 2.5children.

"They are exposed for five years without anybody doing enough. Providers are not willing to give commodities to young girls," he says. It is a concern echoed by Nargis Shirazi Baguma, co-founder of WO-Man Foundation.

A passionate advocate for young people's reproductive health rights, Baguma castigates health workers at public health facilities for being rigid, judgemental and dismissive towards young people's needs.

"A 16-year-old boy told me he would never return to the health centre after a nurse told him off and also told his mother how he had gone to ask for a condom. Services need to be confidential," she says.

Solutions to fast-track progress

She counsels that if providers were open minded and listened more, they would even be able to counsel and dissuade young people from unsafe sex.

"You don't have to be young to understand young people. It is a matter of changing attitude and how you relate with them, the 32-year-old who does not consider herself that young says.

With only four years to the target how do we accelerate progress?

According to the FP2020 next four-year strategy, globally 24 million more women have been reached with "lifesaving contraceptives". However the mid-point target was missed by 10million women.

Uganda committed to reducing unmet need for family planning from 40% to 10% by 2020. By the third round of the PMA2020 survey in 2015, unmet need for FP for married women was 31.8% from 34.7% in the first round of the survey. Unintended recent births were down to 41.3% from 47.4% in the first round of the survey.

Dr Makumbi says that they have not seen significant change in desire for number of children one of the indicators that could help predict a downward trend soon.

From results of another study on trends on contraceptive use that he is part of, they have observed that most FP programmes appear to be focussing on commodity supply rather than improving awareness.

"Strong underlying cultural issues are not being addressed," he says.

"Those numbers (more women using modern FP) will come about by educating communities on the importance of having a few children per family and by addressing the culture and traditions that affect the health of women and children," he observed.

He also suggested that Uganda's newly established National Population Council might need to consider setting a TFR target like Kenya and Rwanda in the region have done.

The two countries set a limit for number of children a woman can have to four.

"Kenya has achieved it and Rwanda is on the way," he said.

He is quick to add that there is no single magic bullet. However the biggest win at the moment will come from girls' education. From the trends, uptake of modern FP methods is very high for women with a secondary level education and above, compared to those with lower or no education.

Nargis Shirazi Baguma argues that access to FP services does not necessarily directly equate to uptake.

"We need to look beyond just providing interventions," she says. She also points out that stock-outs need to be addressed.

Ruth Kavuma will not relent on her belief that young people need to know about their reproductive health. She has observed a high rate of abortions in the community with quacks using herbs, sticks to terminate pregnancies that could have been avoided.

She castigates school heads that hide behind culture and religion and are not willing to accept that the young people are having unsafe sex and therefore need information to protect them.

"People think I am crazy when I tell them that I got my first sex education in a Church Confirmation class at Gayaza High School and it was by my missionary teacher Miss Cox. She would even demonstrate to us what a man looks like using a banana. Her argument then was that as grown members of the church, we needed all information for a successful social life. We laughed at it at the time but it was helpful. It helped us not to get involved, to fear and not to fear. That is what young people need," she said.