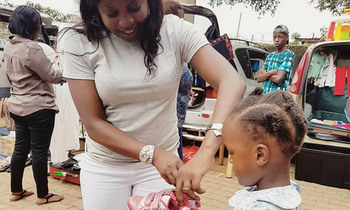 Uganda has been a den of artistes who don't care about the needy for a long time but it seems to be changing finally.

Quite a number of entertainers are joining the giving bandwagon which is a good thing.

Iryn started an NGO called Gather for children and it has been doing some great works for kids around the country.

She made it a point to donate her shoes on one of her fundraising events at Wine Garage in Muyenga on Saturday.

The event was about donating shoes for kids.

How honourable!

Thank you Iryn.