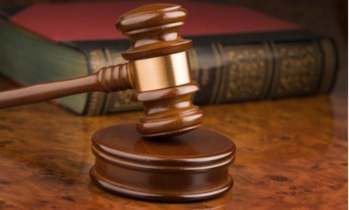 The former banking officer of dfcu bank accused of stealing sh709m from the bank has opted to keep quiet over the matter and let court to decide his fate.

Grace Kakooza on Thursday told the Anti-Corruption Court presided over by Justice Lawrence Gidudu that he will neither give evidence as a way of his defence nor call witnesses to bolster his case.

Kakooza took one of the three options given to him at the closure of the prosecution case. One of the options was to testify on oath, which would leave him to be cross- examined by the state.

The other was to give unsworn testimony in his defence, which meant that he would not be cross-examined. The other is to keep quiet, which he has taken.

"You have three options that I have given you and you can also call witnesses if you so wish. So which one have you chosen," Gidudu asked.

"My lord I have decided to keep quiet and I will not call any witnesses," Kakooza said.

It means court will determine his case basing on the evidence adduced by the prosecution at the end of the trial. Kakooza, who was in court without his lawyer, sat in court without showing any emotions.

Justice Gidudu ordered the prosecution and defence to give in their final submission on July20.

Outside court, senior state attorney Tom Walugembe who is prosecuting the case said: "He had three options to keep quiet, give evidence on oath and be cross- examined by prosecution or keep quiet and unsworn evidence. But he has decided to keep quiet it is his defence,"

Prosecution said while Kakooza was employed as a banking officer, he came up with a scheme to steal from the bank when he allegedly recruited accomplices whose accounts he used to defraud the bank.

Prosecution witness Chris Sserunkuma, head of internal audit at dfcu bank said during the trial that Kakooza initiated fraudulent transaction.

Sserunkuma said he carried out audit an established that the bank had lost a total sh709, 530,415 in various fictitious payments.

According to prosecution, a total of sh709, 530,415 was lost in a fraudulent transaction that was allegedly initiated by Kakooza.

Sserunkuma named some of the beneficiaries as Loy Akiteng who allegedly received $12.497, Sheila Namanda received sh252m, Godfrey Simbwa , Kakooza's brother who received sh39.8m, Shira Entertainment got sh4.8m, Jane Ikiring allegedly got, $2,040, Lawrence Mutumba $, 2,040 through centenary bank, Joshua Kalema got $1,204 and Godfrey Oroma received $700.

Sserunkuma said Sheraton hotel was equally affected by the scam, adding that the money was credited through internal customers and were verified by two former employees of the bank Ann Namakula and Ruth Kikule who directly supervised Kakooza.

Kakooza is charged with embezzlement and causing financial loss to dfcu bank.He allegedly committed the offences between October 2012 and September 2013.He denied the charges.

Under the Anti- Corruption Act (2009), any person found guilty of embezzlement is liable to maximum sentence of 14 -years imprisonment and causing financial loss attracts maximum sentence of seven years upon conviction.

Prosecution accused Kakooza of transferring some of the money to his personal account in Centenary bank and also transfer funds illegally to his accomplices' accounts.