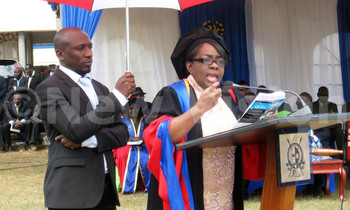 The newly installed Chancellor of Mutesa I Royal University, Justice Julia Ssebutinde has vowed to end students strike in the institution.

"While a broad, I learnt of some strikes in this university, it's not good for an institution of the Buganda Kingdom to have strikes when we can resolve the problems through negotiations," she said.

She was speaking during the University graduation ceremony of 1,572 students at the main campus at Kirumba in Masaka Municipality on June 24, 2016.

Justice Ssebutinde promised to address the students and management concerns which spark off the strikes.

"I have led a life where my assignments are complicated but I make sure that I deliver, I do not like lamentations, laziness, and weakness like late coming on duty. And unnecessary excuses will not be tolerated," she said.


She said that Mutesa I University is an institution of the Buganda Kingdom and not the Kabaka or Mengo.

"We must all support the University because it's for Buganda and Uganda, we need many more students and parents, let's all go out and market the university" he said.

"I have observed that Ugandans of today are lazy, they easily give up when the working environment is not perfect, students can excel even when all facilities are not available," she said.

Justice Ssebutind commended the Kabaka for the scholarship initiatives for needy students under the Buganda Kingodom education scholarship fund.

She also commended the graduands for excelling and said the qualifications achieved should enable them to transform.


The University Council chairman, Frank Ssebowa thanked the Kakaba for identifying and entrusting Justice Ssebutinde with the University.

He asked Justice Ssebutinde to use her position in Mutesa I Royal University to fight corruption.

He said the vast experience from Justice Ssebutinde will elevate the University to the top as the Kabaka demands.

He said skilling Uganda is the biggest challenge facing the graduates. "We have more degrees in the nation but they do not have the necessary skills," he said.
The deputy Katikiro Buganda Kingdom, Twaha Kawase said the university will promote research and academics in the Kingdom.