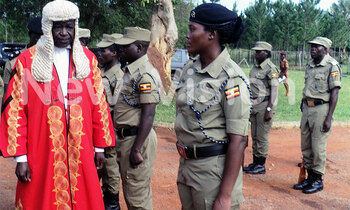 PIC: High Court judge Wilson Masalu Musene inspecting a guard of honour before opening the Nakasongola High Court session. (Credit: Frederick Kiwanuka)

CENTRAL UGANDA - A first ever High Court session has opened in Nakasongola with Judge Wilson Masalu Musene decrying the "alarming" rate of murder cases in the district.

He is to hear a total of 44 capital cases out of which 22 involve murder.

The judge blamed the so many murders on the escalating number of unresolved land disputes, domestic violence and drunkenness.

"The high rate of murder cases is alarming. One of the causes are the land disputes," he said during a stakeholders' meeting that preceding the 40-day High Court session that started on Wednesday.

Out of the 44 cases to be heard, 12 are for aggravated defilement, four for rape and another four are to do with capital robbery.

Musene told the district stakeholders who included local political leaders, civil servants and security personnel that they should advise aggrieved parties in land disputes to follow the right forums in solving disputes instead of taking the law in their hands.

"We have a clear forum to settle land disputes. Advise the people to follow these channels other than taking law in their hands," he told them.

The judge denounced robbery, defilement and rape which he said were also on the rise.

"It is quite embarrassing at this level of civilization that people still rape. Young men should talk to women and convince them [consent to sex].

Musene said the introduction of High Court sessions in Nakasongola was part of the reforms by the judiciary to expedite the process of dispensing justice in order to decongest prisons.

On his part, Nakasongola LC5 chairman Samuel Kigula said the growing number of land disputes which usually lead to murder were being caused by officials working in the district land offices.

The district police commander, Charles Nsaba said unresolved land disputes have given rise to other cases like trespass and malicious damage.

The officer in charge of Nakasongola prison Anguzu asked the judiciary to increase the number of High Court sessions in the district so as to try the big number of charged capital offenders which he said was close to 300.