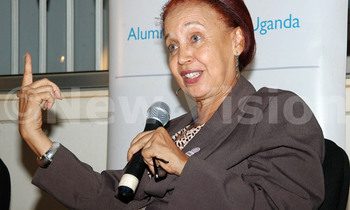 Business and Professional Women (BPW) across the African continent have embarked on a campaign to eradicate child marriage and the consequences this practice brings to the lives of many young girls and their families.

BPW is an international movement that seeks to expand women's participation in representation and leadership, achieving equal pay for work of equal value and advancing women's economic empowerment.

Child marriage according to Adenike Adeyanju-Osadolor, the BPW regional coordinator Africa, is a common problem African countries face right from the grassroots level. It is against this background that the region held an international congress in Johannesburg, South Africa recently and tabled the issue, which was adopted.

"In Northern Nigeria where I hail from, the rate of child marriage is at 70percent. School going children as young as 15 years are often married off," said Osadolor who was speaking on the sidelines of the BPW conference that was held at Sheraton Hotel under the theme, 'Leadership for Impact.'

In Uganda, the Ministry of Gender Labour and Social Development this year launched a strategy for teenage pregnancy that includes good communication initiatives and campaigns against child marriages to help curb the vice.

The Uganda Demographic and Health Survey report of 2011 states that 49percent of women aged 20-49 years were married before the age of 18 and 15percent by the age of 15years, while 9percent of males were married by the age of 18.

The report also found that majority of these girls had already begun child bearing and that the factors affecting the likelihood of early child bearing were education and poverty.

"We are now gearing at ensuring behavioral change within our various communities through training our girls as advocates who will in turn become influencers hence reducing the rate of child marriages," Osadolor said.

At the conference, Dr. Yasmin Darwich, the International President BPW emphasised the need for women leaders to work together, contrary to them working alone and refuted the notion that women are their own worst enemy.

Countries present at the conference included Australia, Benin, Corte d'Ivoire, Cameroon, Egypt, France, Kenya, Mexico, Nigeria, Sudan, Switzerland, Taiwan, Turkey, Uganda and Zanzibar.
"We need to use strong advocacy to claim our rightful place in decision making roles in business, professions, and politics and in society and each of us has to work actively to raise the level of impact of our advocacy," Darwich said.

She also advised the women to keep working with their various Governments to influence legislation to improve the standard of living for women, as well as ensuring female participation at peace discussion tables.

"In Europe for example equal pay day is a big success, thanks to women who were mainly involved in the mediation process. Today, Germany for example Government gave BPW economic resources to implement the programme," said Darwich.

She said in Mexico where she hails from, the biggest project by BPW is a nursing school that has been running successfully for 30 years now.

BPW Kampala chapter was launched in 2013 and has since drawn women from both private and public sector.

Prof. Maggie Kigozi the President BPW Kampala, Uganda said the most important aspect for women is empowerment both as professionals and in business women, hence building their capacity in what they are doing already.

"We want the women to grow bigger and better as individuals who will then take that impact through their business to the average woman. Advocacy is something business women had left to the Civil Society because the business community was fairly silent but now we want to be part of that voice," Kigozi said.

BPW international is the longest running women's organization in the world and is represented at the United Nations, regionally through various commissions.