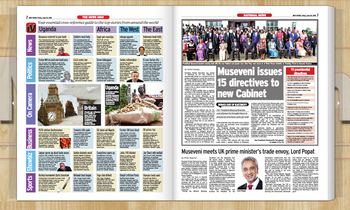 President Yoweri Museveni issued 15 strongly-worded orders and strategic guidelines to the new Cabinet to implement within a specified period.
Museveni clearly spelled out what he wants the ministers to do for the quick transformation of Uganda into a middle-income country by 2020.
Museveni warned the ministers that business will no longer be as usual in this term.
One of the tough orders was to the health ministry to assist Ms. Enrica Pinetti to build her hospital at Lubowa so that medical referrals abroad are stopped and health complications are treated here.
Another specific and tough order was that the proprietors of Bujagali Power Dam must lower the costs of electricity by half by February 2017.
We bring you the 15 instructions Museveni delivered in the first Cabinet meeting. Get the full inaugural speech inside.
Find out what will happen to those who fail to implement the President's orders.
In other news
A Ugandan football star was stabbed to death in the UK. Neighbours reveal what they saw. Get details on how 18-year-old footballer, Matthew Kitandwe, who represented Uganda at youth level just last year, was killed at the door of his home in London.
The lands ministry has increased fees for land registration to raise funds for running the newly established digital land information system. Find out how much you now have to pay to process a land title.
In a surprising, bold and emotional move, a prisoner who was sentenced to death moved through other prisoners and dignitaries and went to shake hands with the judge who sentenced him to death 18 years ago. Find out what the prisoner told the shocked female judge at Luzira Maximum Prison. New Vision captured the dramatic encounter in detail, including pictures.
The NRM has named its members to the Parliament Commission. The commission oversees the welfare of MPs. Get the names inside.
The Commercial Court in Kampala has ordered businessman Desh Kananura to pay Crane Bank over sh120m. Get the case details inside and when and why Desh has to pay all that money.
People in Njeru and Jinja town are so excited about the construction of the new Nile Bridge across River Nile. Find out how the bridge will improve living conditions in the area and who will benefit most.
Also…
In a Hollywood movie style, a man in Makindye, Kampala told his wife that they commit suicide together by taking poison over a bank loan.
Find out why the man failed twice to commit suicide after his wife died.
On Ramadhan
We have a wrap-up of news around the country including Mufti Mubajje's calls for dialogue at Munyonyo as well as the Kyabazinga's calls for the unity among Muslims in Busoga. Also benefit from religious advice during this Holy Month of Ramadhan.