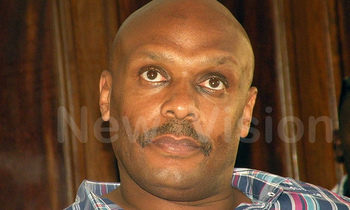 KAMPALA - The Commercial Court in Kampala has ordered business entrepreneur Andrew Kananura popularly known as Desh, to pay Crane Bank Limited sh120.9m

The money, is an accumulated debt, initially sh65m extended to Kananura in form of an overdraft facility on July 3, 2014.He requested for the money to import a motor vehicle.

On Monday, the court deputy registrar Thadeus Opesen, signed a decree, instructing Kananura to pay the sum. This was on the prompting of the bank lawyers, Walusimbi and Company Advocates.

"Upon application by the counsel for the plaintiff, it is hereby ordered and decreed that the defendant pays to the plaintiff the sum of Ug Shs 120,912,270," the decree states in part.

Adding: "The defendant pays to the plaintiff penal interest at the contractual rate beyond the 19th day of April, 2016 until full payment."

The case arose this year on June 2, when the bank petitioned court, lamenting that Kananura had snubbed repeated reminders to pay the debt.

Court documents show that Kananura was meant to pay money in two months at a rate of 24%per annum and penal interest of 36% beyond the agreed term

As of April 19 this year, the debt had accumulated to sh120,912,270. Penal interest refers to the burden shouldered by the borrower for delay when installments are not received as per the repayment terms.

Court documents show that in a letter addressed the registrar dated June 16, 2016, lawyer Nelson Walusimbi requested for judgement on the ground that Kananura had failed to file a defence.

Consent judgement payment schedule

Kananura ordered to pay sh7m, as of June 16. He has since honoured, and deposited the figure in the bank.

He must also pay sh5m before the end of every week effective June 24, this year, until full payment.

The judgement explains that for avoidance of doubt, Kananura must pay sh20m monthly, and that the money be paid directly to the bank and formally acknowledged.

The court also ordered Kananura to pay the law firm costs of the suit, which are subject to taxation as instructed by the court.

The full amount of debt must be settled within 90 days, starting from June 16, 2016. However, in the event of non-compliance, it will attract dire penalties.

"Any breach of this consent shall render the entire debt immediately due," the consent judgement reads in part.

Flamboyant Kananura, who has a collection of expensive fast cars, is the proprietor of Panamera Bar and Restaurant located in the upscale city suburb of Naguru, among other business ventures.