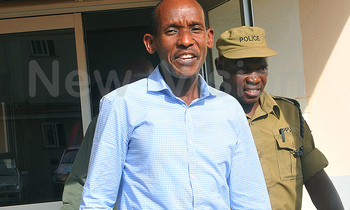 KAMPALA - Indicted Fuelex boss, John Imaniraguha, has petitioned court, accusing Uganda Revenue Authority (URA) of torture and wants his trial at the Anti-Corruption Court stopped.

On June 6, 2016, he was arraigned before court and charged. He took plea and was released on bail.

In his petition filed on Monday, he wants his trial at the Anti-Corruption Court stopped and the court ordered to discharge him.

He wants the state and its agents to be stopped from further trailing, monitoring, intimidating harassing, instituting any criminal charges in relation to smuggling against him and writing disparaging articles about him.

He stated that his woes began when Planet Uganda, a company dealing in petroleum importation, purchased 40,000 litres of diesel from Fuelex Uganda, which fuel was part of a consignment purchased from Addax oils Uganda limited purchased by him.

Imaniraguha said that on April 13, 2016, URA through her agents and armed security officers, without any warning, besieged the fuel service station along Makerere-Kavule, harassed, beat up, arrested his workers, closed down the station and towed away a vehicle loaded with the diesel.

He said that on April 14, the same group descended on his other fuel station at Nalukolongo, closed and sealed it off, thereby stopping its operation.

"The petitioners engaged the 1st respondent (URA) with true facts to reopen the fuel stations and save the businesses from accumulated and continuous losses but the 1st respondent refused," reads the petition.

When URA refused to lift the siege, he petitioned the civil court seeking judicial remedies and injunctive orders. Court in response issued an interim order against URA and ordered it to vacate the closed petrol stations but retain the impounded vehicle as an inquiry into the allegations of fuel smuggling continues.

He stated that instead of honoring the court order, URA allegedly instituted a parallel inquiry in the same matter and used the inquiry to publish disparaging and malicious advertisements in the newspapers, portraying him as a notorious smuggler and a wanted fugitive.

He said that the matter was well known to him and instead of calling him a fugitive, URA should have formally communicated to him or his lawyers before publishing the adverts.

On June 1, 2016, he was allegedly attacked by plain clothed security operatives along Jinja road, tortured him and took off, leaving him drenched in his own blood.

"The 1st petitioner reported the matter at Jinja Road Police Station and was then subjected to medical examination where upon it was confirmed that he had suffered serious injuries," he stated.

He said that his torturers went ahead to brag about their deeds on social media, claiming that he had been arrested and was detained at Jinja road police

According to the petition, his actual arrest happened on June 5, when he was intercepted at Entebbe Airport where he had gone to see his children off to school in Kenya, by security operatives and whisked to URA offices in Nakawa.

He was then paraded before the media and thereafter transferred to the Violent Crime Crack Unit in Kireka. On June 6, he was produced before court.

Through his lawyers from KMA advocates, he wants the constitutional court to declare that the acts of URA contravenes the constitution and was an abuse against his rights.

He also wants an order for the release of the impounded vehicle with the diesel and a payment of general damages to a tune of sh3b. The Attorney General is also party to the case.

In an interview with the new vision, Ian Rumanyika, the URA manager public and corporate affairs said that they have not been served with the petition and that the allegations of torture are baseless.