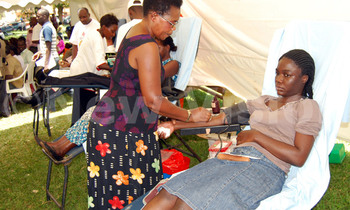 "Although we have many external differences, the same blood pumps through all of our veins. Voluntary blood donation is the act of giving life; it is the greatest gift any person can give or receive."
Dr Margaret Chan, the World Health Organisation Director-General made these remarks last week during the celebrations to mark World Blood Donor Day.
Established on June 14, 2004, the day serves to raise awareness of the need for safe blood and blood products and thank blood donors for their life-saving gifts of blood.
According to WHO, regular voluntary unpaid blood donors are the foundation of a safe blood supply because they are associated with low levels of infection that can be transmitted by transfusions, including HIV and hepatitis viruses.
However, the culture of donating the life-giving gift of blood is still alien to many Africans. According to the World Health Organisation (WHO) report, out of the 75 countries, there are fewer than 10 donations per 1,000 people, with only a dismal 38 coming them from Africa.
According to Dr. Dorothy Kyeyune Byabazaire, the director Uganda Blood Transfusion Service (UBTS), one of the key factors responsible for the unfortunate trend is the poor community response to blood donation.
"The culture of volunteerism is poor in Uganda as is the case in other developing countries. People do not appreciate the fulfilment that comes with giving to a good cause," Byabazaire said.


What is the donated blood used for?
Blood can help patients suffering from life-threatening conditions live longer and with higher quality of life, and supports complex medical and surgical procedures.
A single unit of blood has several uses and can be used to benefit several patients.
It can be used whole, or separated into its component parts, such as red blood cells, platelets, plasma, and other "substances" that can be used to treat a wide range of diseases.
How high is demand?

A 2013 Integrated Regional Information Network report indicates Uganda has an annual demand of about 300,000 units of blood per year, but collects about 250,000 units.
The 250,000 units, is short of 340,000 units of blood recommended by WHO, which would come from 1% of the Ugandan population.
Dr Byazaire says even with a population of more than 34 million people, continuous sensitisation, many do not show up to donate blood.
Who can donate blood?

Dr Byabazaire says anyone who is 17 years of age and weighs more than 45kg can donate blood.
Each person can donate one unit of blood that is equivalent to 450ml every four months for women and three months for men.
The donor must be free from HIV and Hepatitis and not on medication. If they are female, they should not be in their menstrual periods.
Dr Byabazaire says the supply of blood is always enough when children are in school as many of them happily donate blood.
In Uganda about 80% blood donated is collected from pupils and students because they are easier to mobilise than adults.
"We usually have enough blood during the school term, but suffer shortages during long holidays," she says.
Where are the blood banks?

Uganda has eight regional blood banks, Nakasero Blood bank (Kampala), another in Fort Portal, Mbale, Gulu, Mbarara, Lira, Kitovu (Masaka) and Arua.
The regional blood banks are all under the Uganda Blood Transfusion Service, which is responsible for the country's blood transfusion and safety activities.
The regional blood collection centres have also at the Red Cross offices in Hoima, Jinja and Kabale, Rubabo road Rukungiri town and Soroti as well as Masaka hospitals.
About World Blood Donor Day

On World Blood Donor Day, WHO emphasises voluntary, unpaid blood donations must be increased rapidly in more than half the world's countries to ensure reliable supply of safe blood for patients.
Byabazire says Uganda has 100% voluntary blood donation, although the response to blood donation is still below the one percent of the total population recommended to have sufficient supply.
She applauded voluntary blood donors in the country for their selflessness and encouraged more adults, community members and young people to donate blood.
Statistics on blood donation
According to WHO statistics, about 108 million blood donations are collected globally every year.
Only 62 countries get sufficient blood supplies from the voluntary blood donors whereas 40 countries are still dependent for the blood donations on the patient's family members or paid donors.
The World Health Organisation aims to obtain sufficient blood supplies from the voluntary and unpaid blood donors all over the world by 2020.