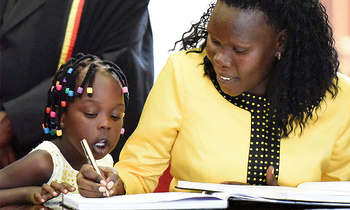 Today's New Vision leads with a story on the new ministers sworn in at State House, Entebbe.

In the picture (above), we see Minister of State for Investment Evelyn Anite appending her signature on the oath as her daughter, Treasure, looks on.

President Yoweri Museveni swore in his new Cabinet with detailed written instructions against which each minister will measure their individual performance in efforts to deliver the country to middle-income status. A tough-talking Museveni said this is the Cabinet that will deliver Uganda to its target of having a middle-income economy by 2020.

Find details on this on page 3.

We also see a smiling President Museveni posing with Minister for Kampala Capital City Authority (KCCA) Beti Kamya and her children after the swearing-in ceremony. Find a two-page splash of pictures from the ceremony on pages 4 and 5.

MAKERERE RESEARCH ON HIV
Flipping further into today's paper, you will find an interesting story on Makerere University. Researchers from Uganda's oldest university have embarked on a research project to establish whether there are some Ugandans with genes that are resistant to HIV/ AIDS and tuberculosis (TB). Page on page 7.

Meanwhile, efforts to install a substantive vice-chancellor (VC) for Kyambogo University still hang in balance after the search committee produced two candidates, yet the law stipulates that three candidates should be identified to vie for the post. That story is on the page before, which also features another on the death of Entebbe Municipality MP Rosemary Tumusiime's daughter who was crushed by a speeding truck in Entebbe.

Also on page 6, there is a story on the Katosi road project. Find out the latest.

STUCK WITH EXPIRED AIDS DRUGS
And in regional news, the spotlight is on Kalangala where Kalangala Health Centre IV has for six months been stuck with expired AIDS drugs worth millions of shillings. This is according to the facility senior clinical officer and co-ordinator of antiretroviral therapy orders in the district, William Keronega. This and more news from upcountry in the regional news section.

TODAY'S OPINIONS
This week, Opiyo Oloya's 'Letter from Toronto' is on last week's shooting at a nightclub in Orlando, Florida in the US that had 49 people killed.

Sheikh Muhammad Ali Waiswa, the Imam of Makerere University Business School (MUBS) is talking success today on our commentary pages. That's not all. Politician Moses Byaruhanga writes that it is the time for ruling party NRM to implement its manifesto.

That and much more on pages 16 and 17.

NEWSPAPERS IN EDUCATION (NiE)


TOTO MAGAZINE
There is something for your little ones. It's your favorite Toto magazine that you will find inside your paper.

· Find out who are the new prefects at Modern Junior School

· Which house won the trophy at Taibah School sports day

· Tips on how to make pineapple juice

· Ramadhan: Do you know who an Imam is?

· Do you have an event soon? Check out our fashion page for tips


CLICK HERE TO READ THE NEW VISION NEWSPAPER ONLINE OR ON YOUR PHONE