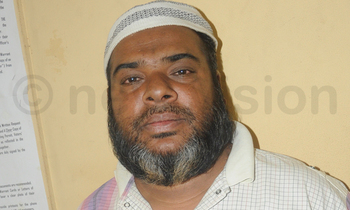 Police in Kampala has arrested two Bangladesh nationals on allegations of stealing money worth sh197m from Pakistani national.
The suspects, Syed Ashraf Ali and Mahmoud Azad who are both residents of Mengo in Lubaga Division in Kampala district are being detained at the Central Police Station.
Kampala Metropolitan Police spokesperson Patrick Onyango confirmed the arrest of the duo.
Onyango said they were arrested after Shafiq Ur Rehaman registered a complaint with the Police Flying Squad after being duped and conned by the duo.
"The pair on 29th June last year bought a hardware business from Kasiman Muhammed Farooq and Shafiq Ur Rehaman at the cost of sh197,863,100 which was not paid in cash. The business was based in Koboko district and was called BE TO BE," Onyango said.
He said that after the pair purchased the business, they retained Shafiq as an employee and promised to pay him $1000 (about sh3.5m) monthly.
"Shafiq worked for almost one year and he was not paid his salary but was only earning some bit of facilitation," Onyango said.
Police say that in April this year, Shafiq asked his bosses to pay him such that he could renew his work permit which was due to expire in June.
"The pair later told Shafiq to bring his passport and that they would help him get his work permit because they were highly connected with officials from immigration," Onyango further added.
After surrendering his passport to his bosses Shafique continued working with the hope that the permit would be renewed.
In May he demanded for his pay and passport because he wanted to travel to Pakistan to check on his family. He was later informed that they didn't have his passport and he does not demand any money from them.
Shafiq came to Kampala and reported the case of theft under file number SD REF 12/06/06/2016.
Herbert Muhangi the commander Flying Squad said they started pursuing the pair and arrested them on Thursday.
"Shafiq came here and reported the case of theft against the pair and when we called them they refused to show up and switched off their phones," he said adding that police started tracking them.
Muhangi added that they were arrested on Thursday in Kampala and are currently detained at CPS pending investigations. He added that they will later appear in court on charges of theft.
Ashraf denied taking Shafiq's money but instead accused him of stealing shs109m from the business.