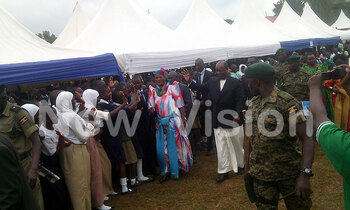 Buganda King Ronald Muwenda Mutebi has expressed discontent over the increased reluctance by schools and parents whenever it comes to teaching Luganda as a language and emphasizing children's talents.

He was crowning this year's winners of the Primary and Secondary Buganda Royal Arts Shield held at Wakiso Secondary Schools Headteachers Association (WAKISSHA) resource centre.

"I thank the great authors and teachers who have endeavored to write books in Luganda hence helping the language to thrive, but I urge teachers to awaken the prioritization of Luganda whenever they are teaching our children," said Kabaka Mutebi.

"I also ask parents to not only buy English books for children to read but also buy Luganda books because in them lies great knowledge."
The Buganda monarch also urged schools in Buganda and Uganda at large to prioritize talent search and improvements to help children have a better option for survival in the future.

He crowned Hands of Grace SS, Kyaggwe - the winner among secondary schools - a shield and a cheque of sh1.5, as well as St. John Paul Mugwannya from Masaka - who won the primary school category.

The schools that finished second and third each received a shield and sh1m and sh500,000 respectively.

At the same function, Kabaka also officially opened the Kabaka Kyabaggu Sports Stadium, constructed by WAKISSHA.