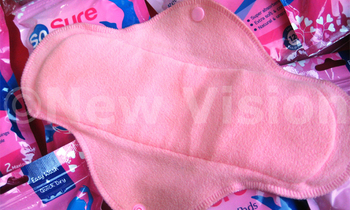 After realizing the need of re-usable sanitary pads in rural areas, the innovative people have come up with re-usable sanitary pads.
One of these people are those managing the afro pads company in Ntinda who have made re-usable sanitary pads from wool and a cotton cloth is put on top then a pin so that the user is able to fastened the pad on the panty.
According to shira Kenyange the marketing manager afro pads, these pads are here to help a girl child feel proud of her self especially during the times when she is in her periods.
"Washable menstrual pads do not need to be disposed off after use and therefore offer a more economical alternative for women, "says Kenyange.
"They can be used for 8 hours for those without heavy flow and those who have heavy flow, they can go for 4-6 hours," she adds. She notes that one well handled, they can last for 1-2 years.
"Reusable sanitary pads have become a popular alternative and are gaining popularity among women, because they are perfume-free, and can be more comfortable for women who suffer from irritations from using disposable pads," explains Kenayange.