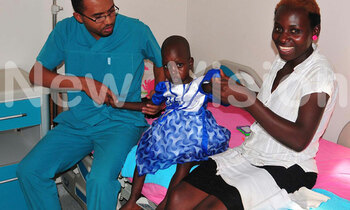 After a long struggle with her sick four-year-old daughter, Monica Kiiza, who is 24, can now afford a smile.

When the story of Khudura Nankambwe was first published on the New Vision website, an olive branch came their way in the form of Nile International Hospital, Jinja who offered to help the girl.

She was born with her intestines out, only delicately held back by a thin membrane.

The operation to correct this has not taken place yet but the optimistic Kiiza who hails from Kyegegwa district says she can at least see light at the end of a long tunnel.

The hospital took her daughter Nankambwe in for one month at the beginning of April this year as they monitored and checked her condition to find a way forward for an operation. She was later discharged on early May but was supposed to report back on June 7 for further check-ups.
Kiiza and her daughter check in at Nile International hospital recently. (Credit: Gladys Kalibbala)

According to doctors' reports from the first check-ups, Nankambwe is too malnourished to be able to go through the pending operation.

Her condition happens to be among that of the 12% of children who die before their first birthday because of malnutrition that triggers off other diseases, according to reports from the ministry of health.

Health officials are concerned that such conditions can be possible regardless of the abundant food supplies we have in the country. The same reports also indicate that over 40% of Uganda's population copes with child-growth stunting on a day-to-day basis.

More than 33% of Uganda's children under five years are stunted or short for their age while 14% are severely stunted, according to the 2011 demographic health survey by the Uganda Bureau of Statistics.

Dr Yosamu Nsubuga of Doctor's Hospital, Seguku explains that proper feeding should begin with pregnant mothers so that healthy babies are born.

He recommends that pregnant women consume plenty of fruits like pawpaws, pineapples, mangoes and others as well as a variety of leafy vegetables in order not to miss out on iron and folic acid for proper growth of their unborn babies.

Ahmed Karama, the Assistant General Surgeon at Nile International Hospital, Jinja says little Nankambwe's current condition cannot allow her to go through the operation.

"By the time she was admitted, her body was very weak while she also had pneumonia which had to be treated first. She must have a strong body before we embark on the operation process," he says.

It's a major operation and so the sick girl's body must be able to cope with the surgery, he adds.
The Director of Nile International Hospital Dr Cevdet Sahin (in white suit) receives little Nankambwe at the hospital in Jinja. (Credit: Gladys Kalibbala)

The operation, which is to be done at the health facility's new branch in Kampala (once they have secured enough space to rent), will be done in three phases to allow the girl time to rest after each operation, says Karama.

Kiiza says her daughter has been feeding on special food to allow her body gain more strength. Although Nile International Hospital is a private health facility, the director, Dr. Cevdet Sahin, says they are ready to perform the surgery free of charge because it's a poor family.

Sahin, who is a Turkish national, says through a translator that they also welcome all patients suffering from cataracts - clouding of the lens in the eye leading to a decrease in vision - for a free operation.

'We need more prayers'

She was born at Mubende Hospital without a skin cover on her stomach. "It was only a thin transparent membrane covering the intestines which could be identified from outside," says her mother.

At the time, Kiiza had just turned 20 and together with her partner Hussein Senkambwe, the two struggled tirelessly with their child's treatment at Mulago Hospital where they almost reported monthly.

"He gave up so soon on our daughter's life and abandoned us at the taxi park in Kampala when she had just turned only one year," says Kiiza of her husband.

He abandoned Kiiza, who was also one month pregnant at the time. The couple was staying in Biwanga village in Mubende district but with two children to care for, Kiiza has since returned to her home district in Kyegegwa.

"What we need now is more and more prayers for her from everyone to allow her go through the operation successfully," she pleads.
Nankambwe's operation cannot take place now but since it is assured, her mother can afford a smile. (Credit: Gladys Kalibbala)

School time

Kiiza tells of her initial skepticism over her daughter going to school because of her condition. But the girl was persistent, saying she wanted to join school.

And he request was granted. Every day, she walks one kilomtere on foot to and from school with her friends.

While that much distance seems to be too much for such a young girl suffering from a rare medical condition, Nankambwe's mother happily says St Peter Rukagate Nursery School is a God-sent school for the area as it opened early this year.

Like in other rural areas, Kiiza says children in the area walk a long distance to be able to attend school.

"We are lucky that all the children in the neighbouhood handle her with care so they all look after her as they walk to school and back," she says, also thanking Vision Group for publishing her story and all other good Samaritans who have given her assistance.