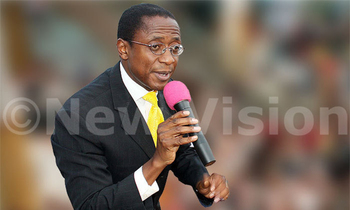 The embattled Busiro South MP Peter Ssematimba has taken the battle to the court of appeal in an attempt to regain his seat.
Ssematimba yesterday filed an appeal notice to the civil division of the High Court in Kampala, saying that he was not satisfied with the ruling at High Court that threw him out of parliament last Friday.
Through his lawyers from Muganwa and company advocates, the former Rubaga mayor contends that he intends to appeal against the whole ruling and requested for the certified court proceedings and judgment in the case to enable him file a memorandum of appeal.
"Our client is desirous of appealing against the said judgment and has lodged a notice of appeal to that effect." Part of the notice read.
Last Friday justice Lydia Mugambe ruled that Sematimba's declaration by the Electoral Commission as Busiro South MP basing on the validity of his East African certificate of education of 1978 and diploma in electronics and computer technology from Pacific Coast Technical Institute -USA of 1988 is null and void.
She also declared the Busiro South county MP seat vacant and ordered that fresh elections be conducted by the EC.
The judge also faulted the National Council for Higher education (NCHE) for certifying Sematimba's diploma as an equivalent of the advanced level certificate without verifying its authenticity.
Mugambe noted that Sematimba would have presented to court copies of academic documents certified by the institute or admission letter to show that he attended the institute.
However, the court found no satisfactory evidence to sustain allegations of electoral offences including voter bribery and ballot stuffing.
Earlier on, Ssematimba told court that his academic documents were self-authenticated.
In regard to diploma in theology from International College of Excellence in USA for nomination, Sematimba said he wanted people to know that he is a trained pastor.
Sematimba also disclosed that before pursuing pre-medicine course in USA, he was an 'O' level student at King's College Buddo.
Sematimba said while trying to authenticate his awards, he got in touch with a body in California in charge of private colleges , who notified him that the college had been closed in 1989 and yet it had an obligation of keeping the records for 5 years which expired 22 years ago.
The Electoral Commission deputy spokesperson Paul Bukenya said that the commission had not been notified by the clerk to parliament about any vacant parliamentary seat.
"As the commission we are more than ready to organize fresh elections if the parliament writes to us." Bukenya said.
The notice of appeal is to be served to Ssekigozi's lawyers and the registrar of court of appeal.