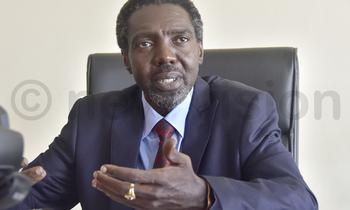 A Uganda Peoples Congress cabinet retreat has given leeway to two key party officials, Betty Amongi and Ruth Achieng, to work with President Yoweri Museveni as plans for a major alliance with the ruling NRM party are being crafted.
UPC president and Lira Municipality MP Jimmy Akena revealed the development while addressing the media at the party headquarters in Kampala
"Following the consideration for the appointments of Hon. Betty Amongi (Oyam South) and Hon. Ruth Achieng for positions of Minister and State Minister respectively by H.E. President Museveni, Uganda People's Congress party cabinet during their retreat over the weekend resolved to approve the appointments and guide national council on the matter during the forthcoming sitting" Akena said.
"The party president has been consistent as far as cooperation with NRM is concerned," he added.
Museveni recently appointed Betty Amongi Minister of Lands, Housing and Urban Development and Ruth Achieng State minister for Fisheries.