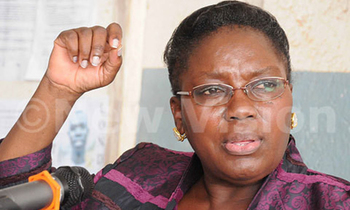 Local leaders hailing from Kasese district have asked Parliament Speaker Rebecca Kadaga to translate, laws passed by parliament into local languages ,to enable grass-root implementation.
The local leaders in Kasese raging from LC1 to LC 5 argue that, they have never received any copy of the passed laws by parliament , neither can they interpret the objectives of the laws and the penalties prescribed in English.
"We are requesting the Parliament Speaker Kadaga to interpret the laws passed by Parliament into local languages because most of the councilors cannot not read English language in which they are authored, " deputy speaker Karambi sub county, Kasese district, Catherine Muhindo said.
Asked if they knew the existence of the Trafficking in Persons Act, 2009, the LC5 chairman Geoffrey Sibendire said "Most leaders are unaware of the law, much as trafficking of humans in Kasese could be existing silently.
"
This was during a consultative meeting organized by The Uganda Women's Parliamentary Association (UWOPA) with local leaders from the sub counties of Kitholhu, Karambi, Ihandiro, Bwera, Nyakiyumbu, Isango, Nyakatonzi, Munkunyu Kasese district on Wednesday at Mpondwe Town council,.
The meeting was aimed at sensitizing the local leaders on the implementation of the provisions of the "Prevention of Trafficking in Persons Act, 2009(TIP)", in Kasese district a border point to the Democratic Republic of Congo where trafficking of human is suspected.
Human trafficking is a form of slavery, whereby traffickers use force, fraud, or coercion to control other people for the purpose of engaging in commercial sex or forcing them to provide labor services against their will. Traffickers use violence, threats, deception, debt bondage, and other manipulative tactics to trap victims in horrific situations.
In October 2009, Parliament passed the prevention of trafficking in persons Act which targets prohibiting trafficking in persons creating offenses, prosecution and punishment of offenders, prevention of trafficking in persons and protection of victims.
Moses Binoga, the coordinator of the task force to prevent trafficking in persons ministry of internal affairs said the cause of human trafficking in Uganda is poverty and unemployment which renders victims vulnerable and leads to rural-urban migration.
Binoga said Last year a total of 207 people were trafficked to various countries 70 were male adults, 45 male juveniles, 65 female adults and 21 female juveniles.
What the MPs say:
Sarah Nakawunde Temulanda (Mpigi Woman MP) supported the proposal. "Many councilors at the sub counties cannot interpret the laws passed by Parliament, which hinders their enforcement."
The leader of opposition elect also (Kasese woman MP) Winnie Kiiza said: "It is the responsibility of government to translate the laws passed by parliament including the Ugandan constitution in the languages people can understand. Most People can't read the constitution on because it is written in English."
Government chief whip also (Kiboga Woman) Ruth Nankabirwa said: "Translating the passed laws into local languages will be costly. Government need to enact a law, on academic qualifications for contestants for LC3 chairperson, must understand to read and write English language.
Margaret Komuhangi, (Nakasongola woman) said all ministries when they are proposing to enact laws in parliament they should include budget, to help the law implementers and enforcers such as the police, and now the local councilors who demand for interpretation of the laws at the lower levels.