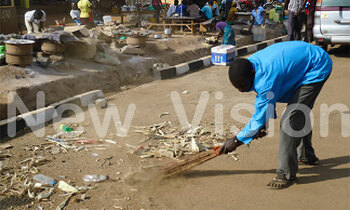 Several leaders of Karuma poured into the town council armed with brooms, hoes, forks to offer community service as a way of reaching out to the people through the 'Keep Karuma Clean' campaign.

They swept the roads, collected rubbish and cleared clogged drainage channels.

Officials from Sinohydro Corporation Ltd and UWA joined local leaders in the exercise.

They used the opportunity to share information on good sanitation and hygiene practices, and advised the community to embrace a cleaner healthier environment.

"Community service helps to attract more people who might find it difficult to access useful information in rural areas and some urban setting like slums," said LC1 chairman Opiyo Severino.

Karuma is hoping to become a city with time when the construction of Karuma dam is completed, he added.