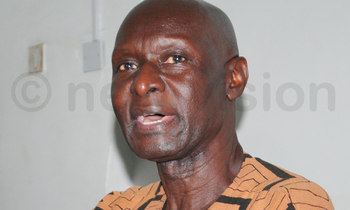 Police in Gulu district on Thursday evening blocked Olara Otunnu the outgoing president one of the Uganda People's Congress factions from accessing Dan Oola Odia the party's National Assistance Secretary for Mobilization, who is in their custody.
Otunnu had gone with family members of the detained official, also UPC spokesperson for Acholi Sub region, demanding to see him but he was told he could not see Odia without the clearance of Aswa River Regional Police Commander (RPC) Wilson Kwanya.
The RPC who arrived at the Police station at 7:30pm said it was past time visitation time.
Kwanya also told Otunnu that Odia had not yet recorded a statement but he was being held on intelligence information, an issue of national security.
He said Odia who is a vocal UPC supporter and close ally of Otunnu, was in good health.
Otunnu insisted on seeing Odia but the Kwanya declined saying he should visit on Thursday during the stipulated hours.
Odia was arrested on Wednesday as he took a boda boda ride home.
Initial reports had indicated that he had been abducted however Gulu Police clarified that Odia was in their custody.
Otunnu said the manner in which Odia was arrested was unlawful.