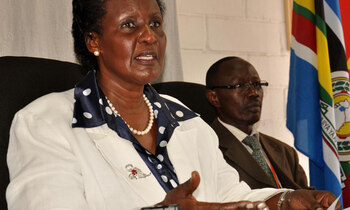 Minister of Trade and Industry Amelia Kyambadde has underscored the need to transform business with the aim of increased productivity. Kyambadde explained that for more industrialization to take- off, there is need to change the mindset of investors through encouraging investments tailored towards agricultural productivity.
This, she explained will help bridge the unemployment gap on top of contributing to industrialization which is government's priority.
Kyambadde was reacting after the budget speech read on Wednesday afternoon at Kampala Serena hotel.
She said "there is need to encourage more microfinance institutions in the rural areas to avail the farmers with cheaper loans to grow their projects. As we seek to revitalize, co-operative bank let us all strive to support rural farmers, the suppliers of many raw materials."
The minister's comment comes after government officially signed a Memorandum of Understanding (MoU) to establish Special Economic Zone (SEZ) aimed at boosting exports.
Kyambadde welcomed this initiative and pledged to prioritize industrialization which top in government's agenda, this term.
While reading the 2016/17 budget speech, Matia Kasaija Minister of finance and economic planning reiterated that government shall undertake to develop infrastructure in the Special Economic Zone including roads, water systems, ICT structures and more to promote further investments.
Government has allocated shs 170bn in the 2016/17 budget for the trade and Industry sector to facilitate more industrialization.