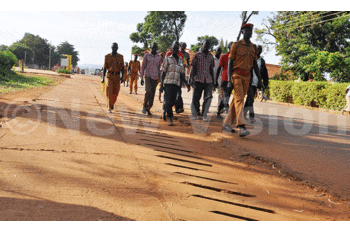 About eight inmates handcuffed walked a distance of one kilometer to Masindi High Court for prosecution due to lack of transport.
According to prison officer who is not authorized to speak to the media the prisoners are normally transported to court using a lorry but this time around the lorry had been used to collect firewood from the neighbouring district.
Some of the inmates who were barefooted while others were on sandals were escorted by Prison officers armed with AK47.
The sandwiched prisoners could hardly walk comfortably since they were handcuffed and closely monitored by the prison officers.
The prisoners moved from the Prisons station in Masindi municipality and joined Masindi Port Road up to the court premises.
The Justice Law Order Sector (JLOS) particularly the Prisons are grappling with limited resources to the extent that prisoners across the country sometimes are not produced to court due to lack of vehicles.
This comes at the time a budget to the tune of sh26.3 trillion for the financial year 2016-2017 was presented to the nation.