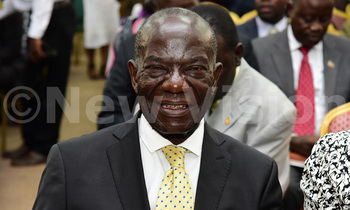 Parliament on Wednesday morning approved the appointment of Edward Kiwanuka Ssekandi Vice President of Uganda.
280 MPs voted in favour of a motion approving him for the post, 4 were against and 9 abstained.
In a new Cabinet named on Monday, President Yoweri Museveni appointed the Bukoto Central MP Edward Kiwanuka Ssekandi Vice President.
Ssekandi was first appointed VP in 2011 replacing Prof. Gilbert Bukenya. The motion to approve Ssekandi was moved by Kiboga Woman MP also Government Chief Whip designate Ruth Nankabirwa.
Aruu County MP Otto Odonga of FDC and Joseph Ssewungu of DP seconded the motion.
The Constitution provides for simple majority for approval of VP by Parliament. The Vice President deputises the President as and when the need arises.
MP Joseph Sewungu
Hands up. voting time. Photos by Kennedy Oryema
The 73-year- old Ssekandi was born in Masaka District on 19 January 1943. He graduated with honors from the University of East Africa with a Bachelor of Laws degree. He also holds a Diploma in Legal Practice from the Law Development Center in Kampala.
From 1973 until 1978, he served as a lecturer at the Uganda Law Development Centre. Between 1978 and 1979, he served as the Acting Director of the Law Development Centre. He was the lead counsel on the Commission of Inquiry into Violations of Human Rights, between 1986 and 1993. He was a delegate to the Constitutional Assembly, which drafted the 1995 Ugandan constitution, from 1994 until 1995.
In 1996, Ssekandi was elected to Parliament to represent Bukoto County Central, located in Masaka District. He was re-elected from that constituency in 2001, 2006 and 2011. He served as Deputy Speaker of Parliament from 1996 to 2001. He was elected as Speaker in 2001, a position he held until 2011.