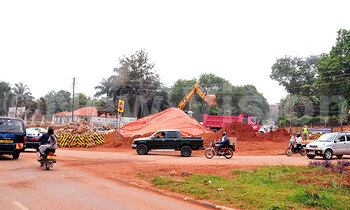 KAMPALA - The relocation of National Water Sewerage Co-operation (NWSC) cables and UMEME power lines has caused delays in works on the three main junctions under construction by the China Railway Seventh Group.

Work, according to Kampala Capital City Authority (KCCA) engineers, has been delayed at the Fairway Junction, Old Kira (Nakawa) and Mambule road in Kawempe.

Engineers said it has delayed the contractor by months while working with NWSC and UMEME to relocate cables and power lines along the Fairway Hotel junction.

A team of KCCA engineers led by Eng. David Semugooma, consultants from Korea Engineering led by Seong Yoo Kyeong and contractor Li Wan Hong inspected the works.

They told KCCA executive director Jennifer Musisi, that relocation of utilities and compensation of residents has held them for several weeks.

"We have lost between two to five months as we are trying to relocate the power cables and water cables which require UMEME's and NWSC's intervention. I think we need to have a Memorandum of Understanding with UMEME and NWSC in order to speed up the process," Semugooma told Musisi.
Engineers said the recent rains had also affected the works.

Along the 1km-long Mambule road towards Bwaise, there is a structure with 10 shops where KCCA needs to negotiate with the owner on issues of compensation, said Semugoona.

Meanwhile, work on some section of the Mabua -Alice road has been suspended pending a decision by the Uganda National Roads Authority (UNRA) on how the two roads will be connected.

At the Old Kira roa, engineers were concerned about some 11 cross water and telephone lines which have taken contractors over four months to work upon.

Work on several junctions along Kampala road was started last year when President Yoweri Museveni launched the second phase of the Kampala Institutional and Infrastructure Development Project (KIIDP-II).

The KIIDP-II project is aimed at enhancing the infrastructure and institutional capacity of KCCA so as to improve urban mobility in Kampala. A total lane length of 154km is to be reconstructed, widened, and dualed throughout the entire project life of 5 years.

The project manager China Railway Seventh Group, Li Wan Hong said that work along Fairway Hotel is expected to be complete by February next year despite the delays.

During the launch of the project, manager Gi Wan Hong envisaged some challenges like the electricity poles, telecom wire and poles, national water drainages which were in the area of the planned road expansion.

The three junctions are part of the 32 junctions in Kampala and its suburbs which will be given a new facelift by KCCA under the Kampala Institutional Infrastructural Development Project KIIDP II, US$ 175m World Bank funded project.

Others junctions which are under work include Makerere Hill Road, Bakuli Nakulabye.

China Railway Seventh Group is handling construction with consultation from Korea Engineering under the supervision of KCCA.