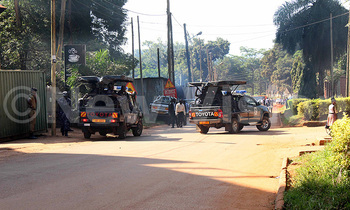 Security has been beefed up at the Constitutional Court ahead of opposition leader Dr. Kizza Besigye's case at 3:00pm.
The main routes leading to Twed Tower that houses the court have been blocked. The Fair Way Hotel junction and Mulago-Wandegeya routes have been sealed off.
The former presidential candidate on remand in Luzira Prison over treason charges is today expected to appear before the Constitutional Court for the hearing of an interim application filed by the Attorney General against FDC's defiance campaign. This is a different case.
Deputy Chief Justice Steven Kavuma is set to hear the application.
The Attorney General (AG) on instruction of IGP Gen Kale Kayihura on Wednesday applied to court for issuance of court summons against Besigye and his party for hearing the application afresh.
Photos by Tonny Rujuta
The summons follow the expiry of an ex-parte order issued by Justice Kavuma, blocking FDC's defiance activities including weekly prayers, demonstrations and continued demanding of an independent election result audit.
In the affidavit supporting the AG's interim order application, Gen. Kayihura contends that unless court stops FDC's activities, the country will go back to political unrests and breach of peace.
He explained that following Besigye's non-appearance in Nakawa Court on Wednesday, he received intelligence reports, informing him of a plot by some FDC supporters to block roads and attack pilgrims going to Namugongo Martyrs shrine as the prison's bus takes Besigye to Court.
The AG wants court to declare both Besigye and FDC'S defiance activities unlawful since they are not in conformity with the prescribed processes of challenging a presidential election.