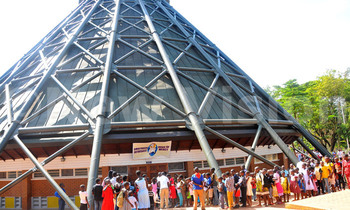 The Uganda Martyrs' Novena is underway. The Catholic novena is a nine-day prayer event. Oftentimes, it is observed in preparation of a special event.

Saturday, the third day of the novena, was dedicated to Saint Bruno Sserunkuma, the Patron Saint of the Security forces.



The Mass at Namugongo Catholic Martyrs Shrine was led by Fr. Loudel Serunjogi who urged the security men and women to do their work of keeping peace with absolute dedication and honesty, just like the Uganda Martyrs, who stuck to their Christian faith, which, in spite of the many challenges and temptations they faced during persecution.

The mass was attended by members of the various security forces. The Prisons officers led the singing during mass.

The Assistant Commissioner Prisons, John Tumwebaze advised Christians not to lose hope when they get challenges at work, but continue to trust in the providence of God.

After mass, the Christians went in procession to the Glottal of St. Bruno Sserunkuuma, where they lit candles and concluded the mass.

The 22 Catholic Martyrs of Uganda were killed by Kabaka Mwanga of Buganda, between 1885 and 1886. They were canonized by Pope Paul VI at St. Peter's Basilica, in Rome, on October 18, 1964.