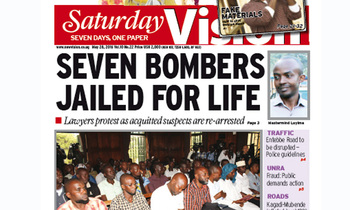 Five Kampala bombers have been jailed for life, two were given 50 years each. We have their names and photos inside.


Did you know that the five terror suspects acquitted yesterday by the High Court were immediately re-arrested and taken to an unknown destination? But what does this legally mean for the Government and the suspects? Will the government bring new charges against them or appeal to court to reverse the judgement? Saturday Vision has the details.


Saturday Vision retraces the Kampala twin terrorist attack five years ago. Do not miss the newly discovered evidence, plans and movements of the terrorists following the completion of the court case. We can now give you all the details without any fear of subjudice.

In other news,

The final winners of the New Vision School Fees promotion have been named. Get a copy of Saturday Vision to know if you, your friends or relatives are among the lucky winners.

Following the reported loss of huge sums of money, the public is demanding action on the Uganda National Roads Authority fraud suspects. We give you more information on the suspects, what deals went wrong and how much money was lost.


The public must be right to demand action. Now the Kagadi-Mubende road costs have been inflated by sh128b. We bring you the full story on how, why and who inflated the cost, and how the fraud was discovered.


In Homes and Construction

We have 12 pages of the Builders Guide. All you need to know about building is clearly laid out for you.



To avoid any inconveniences this weekend, get a copy of Saturday Vision to find out which roads will be closed when the Korean and Turkish presidents visit Kampala.
You can also read all your papers online via the e-paper. HERE'S HOW