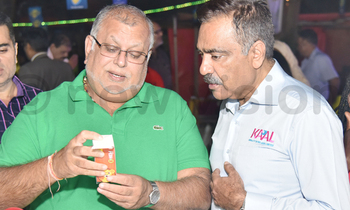 Investors have urged the Government to support the agro processing value chain in order to increase exports, which are needed to correct the country's current account.
The current account tracks a country's trade with the rest of the world in goods, exports, imports, services, income and transfers.
The investors also want the Government to focus on vocational training to build a skilled manpower pool which is needed to boost production levels for the industrial sector.
According to businessman, Sudhir Ruparelia, efforts should mainly be focused on agro processing, where the country has a comparative advantage and majority of the people earning a living.
"The industrial sector here is agro-based, accounting for at least 40 % of total manufacturing, and that is why we want the Government to focus on its development," he said.
Agriculture contributes approximately 22.5% to the national gross domestic product (GDP) and provides employment to more than 80% of the population, according to records from the National Bureau of Statistics.
He said agro processing will inevitably accelerate the diversification of Uganda's economic base and provide new sources of employment for the country's rapidly growing population and increasingly urban labour force.
"Uganda's population is currently 37 million and it is growing at a rate of 3% per annum. This makes our population one of the fastest growing in the world, yet we don't have enough jobs for our people. The only way is industrialisation and skills development to create the jobs," Ruparelia said.
This was on the sidelines of the launch of a new multi-purpose disinfectant solution, Germilon, by the Kwality Afro Asia Ltd at Kololo on Friday.
He said by accelerating the transformation to an industrial economy, jobs in the manufacturing and services sectors could reach eight to 12 million by 2030.
"However, the bulk of the workforce will likely remain employed in the agricultural sector, mainly because it is performing the role of residual employer. Therefore, all efforts must be integrated with agro production and processing," he said.
Statistics indicate that exports of goods and services have stagnated for the last two fiscal years, as we appear to have reached the limits of supply capacity in many of our main export industries.
According to the Kwality Afro Asia managing director, Akshay Aggarwal, government should focus more on vocational training to curb the rampant unemployment levels, especially among the youth.
"Ugandans are well educated people but unfortunately, many do not have enough skills needed by employers at the workplace. It is therefore important to build relevant expertise, instead of blaming foreigners for taking over available jobs in the country," he said.
The latest statistics from UBOS indicate that the country's youth unemployment currently stands at 22.3 %, with their numbers constituting 77% of the population.