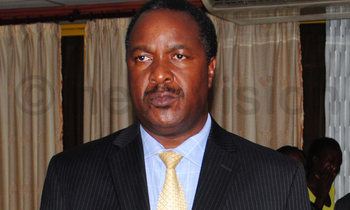 The Ministry of Health is planning to roll out a national routine immunization against yellow fever in 2017.
Health Minister, Dr Elioda Tumwesige said they want to ensure that people are protected against yellow fever outbreak.
He was speaking to leaders and residents of Masaka at the Liberation Square during the launch of the yellow fever mass vaccination exercise in Masaka, Rukungiri and Kalangala districts.
The exercise which is supported by WHO, GAVI, UNICEF, Red Cross and Centre for Disease Control (CDC) has been overwhelmed by a high turn up in Masaka.
Tumwesige asked people from areas outside the targeted three districts not to join the exercise.
"Give a chance to the people of Masaka, Rukungiri and Kalangala to get vaccinated because they are at most risk," he said.
However, the Masaka District CAO, Eriama Walter told New Vision that there is already a demand for more vaccines since other residents from the neighboring districts flocked Masaka to get vaccinated.
"We are hoping that the vaccination exercise will be extended to have more people from Masaka to access the vaccine," he said.
Tumwesige noted that the measures put in place have been effective in slowing down the yellow fever outbreak in the affected districts.
He said ever since the outbreak was confirmed on March 26, the Ministry of Health and its partners embarked on the treatment of suspects.
He said isolation units were set up for the suspected cases in hospitals and residual spraying carried out to curtail the movement of mosquitoes.
He said surveillance of yellow fever was strengthened to improve early detection, reporting and referral of suspected cases.
Tumwesigye said they are targeting to reach out to 90% of the population affected by the yellow fever outbreak. He said the vaccine is safe and provides lifetime protection.
The Masaka deputy RDC, Joseph Ssekasamba said a section of opposition politicians attempted to fail the vaccination exercise branding the campaign to be pro-NRM because of the yellow vaccination cards.
The yellow fever outbreak has killed over 10 people in the region especially in areas close to forests.
The mass vaccination exercise targeting 40,000 people in Masaka started on May 19.
The most affected sub-counties include Buwunga, Bukakata, Kyanamukaka, Kyesiga where six people who died were dealing in charcoal burning activities in the forests.
The Masaka District Health Officer, Dr Stuart Musisi told New Vision that currently people without yellow fever vaccination cards are not allowed to leave the country.