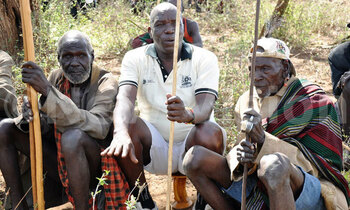 The former Kotido Resident District Commissioner (RDC) Andrew Napaja now the Moroto LC5 -elect has pledged to promote peace, development and reconciliation in the next five years.

In addition, Napaja has identified low literacy levels, high prevalence of diseases, poor hygiene and sanitation including land conflicts as the main challenges in the district.

Speaking to elders at Kanakomol village, Naitakwae parish in Nadunget Sub County, on Friday, Napaja said that to achieve enduring peace, greater efforts must be made to reduce poverty levels.

According to him, poverty in most villages was an outward sign of underlying problems in Karamoja.

"Now that I am the chairman for Moroto, we have to come together and work to ensure that peace and tranquillity prevails within the district," Napaja noted.


He said in the next 90 days, he will issue a comprehensive plan on hygiene and sanitation to ensure the populace is healthy.

He also promised to persuade the community to adopt means of fighting alcoholism that has claimed several lives across the district.

Napaja commended the communities for sustaining the prevailing peace in Karamoja. He also said he completely agrees with government in the use of law and other devices, including force in conflict resolution.

He asked the former aspirants at all levels who contested in the February elections to ensure that politics does not divide the district.

"Elections are now over, we need to reconcile and forgive each other where we inflicted pain," Napaja said.

He uttered hope that the procedures used in bringing peace to Karamoja could soon be deployed to deal with the increasing animal thefts in the region.

Napaja decried the initiation of ethnic differences in the past that delayed development in the region, saying he plans for a committee to reach every part of Moroto district to preach tolerance.

"We should not allow tribal/clan conflicts to threaten our peace and stability, nobody should come and make for us peace. We should ensure harmony in our district.

Napaja said in the next five years, he will embark on implementing the National Resistance Movement(NRM) manifesto by ensuring children go to school, improve the school inspections so as to improve performance and community access to better health including the availability of drugs in health centres.

Among others, he promised to ensure the dead receive decent burials, increase food production in the district, government sets aside funds for restocking the district, revamp the revenue base for the district and ensure civil servants perform to their expectations.